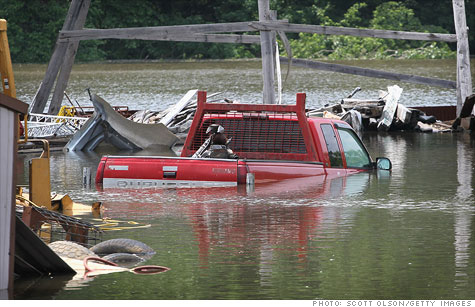 The flood has already crested in Memphis, shown here. Now it's headed for New Orleans, sparking fears of inundated refineries and driving up gas prices.
NEW YORK (CNNMoney) -- Flooding along the Mississippi River is driving up gas prices over fears that refineries could become inundated in coming weeks, especially as the flood heads downriver for Louisiana.
"When we've had flood waters in this part of Louisiana before, it has closed up to 12 refineries," said Peter Beutel, analyst with energy risk management firm Cameron Hanover, referring to the impact of Hurricane Katrina in 2005. "The fear here is that we could see refineries close again."
The nationwide average price for unleaded gasoline climbed 1.1 cents to $3.962 per gallon on Wednesday, according to motorist group AAA, reversing the downward trend of the previous five days.
"The concern is that the infrastructure could be dampened or knocked out for a while," said Joseph Stanislaw, an independent senior adviser at Deloitte LLP & Touche LLP.
Stanislaw said the impact is "both physical and psychological." The flood has already impacted some refineries, such as a Valero (VLO, Fortune 500) facility in Memphis, where the flood has already crested.
There are concerns that the flood will wash over refineries in New Orleans in the next two weeks, driving up gas prices further, he said.
He said that supply would be impacted as refineries either shut down or slow down production, going into "maintenance mode."
Valero spokesman Bill Day said the Memphis refinery is still operating, but barge access to and from the facility is limited, so the refinery has had to fall back on other means of shipping, such as pipelines.
The company is also bracing for flood-level waters at its refinery in St. Charles, La., located on the Mississippi River immediately upstream from New Orleans.
"We're taking precautions at that plant very similar to what we do during hurricane season," he said, explaining that the plant is protected by levees but workers are also moving electrical equipment to higher ground and stocking up on supplies. "We don't expect there will be any interruptions to production."
Some of the largest refineries in the U.S. are located next to the Mississippi River downstream from Memphis, which means they have yet to be impacted by the water. But flood-level waters are imminent as they head downstream.
The riverside refineries in Louisiana include ExxonMobil's (XOM, Fortune 500) facility in Baton Rouge, the second-largest U.S. refinery with a daily capacity of 504,500 barrels. The fourth-largest U.S. refinery, owned by Marathon Oil Corp., (MRO, Fortune 500) is located on the Mississippi River in Garyville and produces 436,000 barrels a day. ConocoPhillips (COP, Fortune 500) has a refinery next to the river in Belle Chasse, immediately downstream of New Orleans, with a daily production of 247,000 barrels.
"We're doing everything we can to protect our facility," said ExxonMobil spokesman Kevin Allexon, explaining that workers are sandbagging parts of the refinery complex and moving equipment to higher ground. "We're going to continue to operate as best we can."
Spokesmen Marathon and ConocoPhillips were not immediately available for comment.
Tom Kloza, the chief oil analyst for Oil Price Information Service, said that rival refineries will capitalize on the shut-downs.
"The notion of flood-inspired refinery problems had tones of the Epic of Gilgamesh yesterday," said Kloza, referring to an ancient Iraqi story that references a legendary flood. "The water poses logistical issues but there is incredible profit motive to run refineries everywhere else and take advantage of incredibly wide refining margins."
Were it not for the flood, gas prices would probably be headed lower, said Beutel. He said that wholesale gasoline prices, which typically lead retail prices, were down last week on a variety of economic factors.
This would include a recent plunge in oil prices. Last week, crude oil futures dropped nearly 15% in their biggest weekly decline since last 2008.