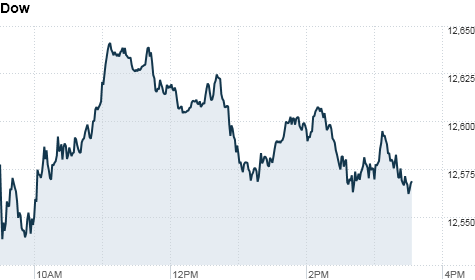 Click the chart for more market data.
NEW YORK (CNNMoney) -- U.S. stocks ended a choppy session lower Monday as investors remain focused on oil prices and the debt crisis in Europe.
The Dow Jones industrial average (INDU) fell 45 points, according to early tallies. The S&P 500 (SPX) lost 8 points, or 0.6%, and the Nasdaq Composite (COMP) declined 45 points, or 1.5%.
Stocks opened lower following a dour manufacturing report and weaker-than-expected earnings from home improvement retailer Lowe's (LOW, Fortune 500). After posting gains in the morning, stocks fell anew in the afternoon.
Trading has been volatile recently as commodities such as oil and silver have fallen sharply from record highs. Investors are also bracing for the conclusion of the Federal Reserve's bond-buying program at the end of June.
Just two weeks ago, stocks were sitting at their highest levels in nearly three years. But all three major indexes are down almost 2% in May.
"The market is in a wait-and-see mode after a very volatile week last week," said Kate Warne, chief investment strategist with Edward Jones.
Warne said the choppy trading could continue this week as the focus is likely to remain on commodities and the outlook for global economic growth. Investors are also hoping quarterly results from Wal-Mart (WMT, Fortune 500) due early Tuesday will help shed some light on consumer sentiment, she added.
Oil prices, which had been trading at $115 a barrel not long ago, were down over 2% to below $98 a barrel. That weighed on shares of Exxon (XOM, Fortune 500) and Chevron (CVX, Fortune 500).
Despite the broad-based retreat, shares of Intel (INTC, Fortune 500), Travelers (TRV, Fortune 500) and American Express (AXP, Fortune 500) all rose about 1%.
Aside from Intel, shares of big technology companies were among the worst performers. The selling was not being driven by any particular catalyst, but many tech shares have fallen near key technical levels, said Dave Rovelli, managing director of U.S. trading at Canaccord Adams.
"We've had incredible run and now that earnings are all done people are taking profits and there are no buyers," he said.
The head of the International Monetary Fund, Dominique Strauss-Kahn, was denied bail by a judge in New York, where he was arrested over the weekend for allegedly sexually assaulting a housekeeper in his hotel room.
The arrest comes at a critical time for the IMF, which is heavily involved in the bailout of Greece and other European countries. But investors said the scandal is not likely to derail efforts to stabilize shaky economies in Europe.
"The situation is not a market altering experience, but it is definitely an embarrassing one," said Mark Luschini, chief investment strategist at Janney Montgomery Scott.
In the United States, the debate over long-term fiscal deficits and government spending is heating up.
The U.S. government officially hit its legal borrowing limit, Treasury Secretary Tim Geithner told Congress. He went on to urge Congress to raise the country's legal borrowing limit soon "to protect the full faith and credit of the United States and avoid catastrophic economic consequences for citizens."
Warne said she expects Congress "to come to its senses" and raise the debt limit, but not without some posturing by lawmakers from both parties.
Economy: The Empire Manufacturing survey came out before the start of trading. The regional reading for general business conditions for manufacturing slipped to 11.9, much lower than the reading of 18 than the consensus estimate of economists from Briefing.com. The index was 21.7 in April.
The National Association of Homebuilders said its May index of builder confidence was unchanged from the previous month at 16, as expected.
Companies: A number of major retailers report earnings results this week.
Shares of home improvement chain Lowe's (LOW, Fortune 500) fell 3%, after the company reported earnings that fell short of forecasts and reigned in its forecast.
Department store J.C. Penney (JCP, Fortune 500) reported a profit of 28 cents per share, topping expectations by 4 cents. Shares slipped 2%.
Also, the NASDAQ OMX Group, Inc. (NDAQ) and IntercontinentalExchange (ICE) said they are withdrawing their bid to acquire NYSE Euronext (NYX, Fortune 500), following discussions with the antitrust division of the U.S. Department of Justice
World markets: In Europe, Britain's FTSE 100 ended flat. The DAX in Germany fell 0.2% and France's CAC 40 tumbled 0.7%.
Asian markets ended the session lower. The Shanghai Composite shed 0.8%, the Hang Seng in Hong Kong fell 1.4%, and Japan's Nikkei shaved 0.9%.
Currencies and Commodities: The dollar fell against its main trading partners, including the euro, Japanese yen, and British pound.
Oil for June delivery fell $2.28 to settle at $97.37 a barrel.
Sliding oil prices have started to translate into some relief at the pump. The national average price for a gallon of regular unleaded gasoline decreased six tenths of a cent to $3.955 -- the fourth consecutive decline, according to AAA.
Gold futures for June delivery slid $3 to settle at $1,490.60 an ounce. And silver for July delivery fell 88 cents to $34.12 an ounce.
Bonds: The price on the benchmark 10-year U.S. Treasury note edged up, pushing the yield down to 3.15%.
-- Have you lost money in the commodities market. If so, we want to hear your story. Please click here to email a CNNMoney editor.