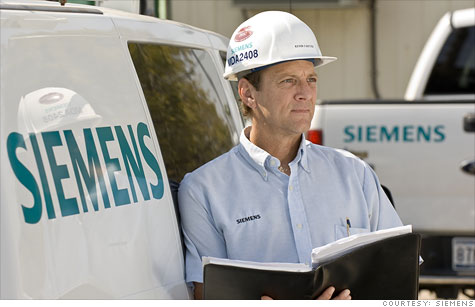 Siemens has more than 3,000 job openings.
NEW YORK (CNNMoney) -- Just where does your resume go after you hit the submit button on a job application?
Turns out, it's not into a big black hole.
After hearing repeated complaints from the unemployed about their job applications disappearing into the void, CNNMoney decided to examine how a company fills a job posting.
We selected global technology giant, Siemens, which is currently looking for more than 3,000 engineers, salespeople, technology professionals, field service representatives and others across the United States. The company is returning to its pre-recession hiring levels, filling 10,000 positions this year.
Siemens typically advertises its openings on job boards, such as Monster and CareerBuilder, as well as on its company Web site. Employees are also notified about available positions through Siemens' intranet in case they want to apply or refer a friend. (About 40% of Siemens' jobs are filled from within.)
The company employs about 80 recruiters to sift through the more than 65,000 applications that Siemens typically receives each month. Each staffer usually has a portfolio of 30 to 35 open posts to fill.
Increasingly, the recruiters are turning to networking site LinkedIn to hunt for professionals who fit a position's criteria, even if they aren't looking for a job. Siemens pays LinkedIn for the privilege of being able to recruit on the site, allowing it to search member profiles by job function, title, location and even professional affiliation, such as the Society of Women Engineers.
"We can go from 100 million to 100 or 10 [candidates] fairly quickly," said Mike Brown, Siemens' senior director for talent acquisition, of the LinkedIn community.
The search for a civil engineer
On Feb 24, the company began looking for a civil engineer for its Orlando, Fla., headquarters of its energy division.

The job was advertised on Monster and CareerBuilder, as well as Siemens' internal and external Web sites.
Some 44 candidates applied for the position within 12 days, and a recruiter was assigned to sift through the resumes to find the best candidates.
Since it's tough to review every single resume, the recruiters depend on technology that allows them to search for applications that meet the requirements of the job.
For its civil engineer position, Siemens was looking to hire someone with five to eight years of experience and was adept at "complex material specification" and "schematic preparation." It wanted someone who is a problem solver, but also refers complex, unusual problems to others.
During those first 12 days, the recruiter found two people who fit the bill and called them on the phone to confirm the information on their resumes and get examples of their on-the-job experience. She was also trying to get a sense of whether they'd fit in at Siemens, what they expected in terms of salary, and whether they'd be willing to relocate and travel for the job. The conversations usually last between 15 and 45 minutes.
Satisfied, the recruiter sent their names to the hiring manager.
As for all the others? They get an email acknowledging their application was received. That could be the last they hear from the company if they aren't a good match. But they remain in Siemens' database, so they might be surprised with a call months later, if they turn out to be a good fit for another position.
By mid-March, another 54 people had applied for the civil engineer post, and the recruiter sent an additional four applicants to the hiring manager for review.
Of the six people presented to him, the hiring manager selected three to interview face-to-face by month's end. During that time, another 53 candidates sent in resumes.
At the interview, Siemens managers ask a lot about a candidate's previous experience. The prospective employees will likely be prompted to describe a situation and how they handled it. The interviewers want to know what candidates learned from the episode, while listening for mention of traits important to the company. Teamwork, for instance, is key at the tech firm, so managers may inquire about a time when the candidates had to rely on other people to be successful.
The Siemens managers are also looking to ascertain an applicant's capabilities and leadership potential. For example, if the job requires that the person deal with clients around the world, then the managers may ask questions that would gauge the jobseeker's cultural sensitivities.
"It's not only to fill the position that is being advertised, but it's also to look at that talented individual joining the organization [and] where can they go in the future," said Mike Panigel, chief human resources officer for Siemens.
By early April, another 36 people had sent in resumes, too late to be considered. One person had already been selected by the hiring managers.
The successful candidate was offered the position on April 8, beating out 186 other applicants.