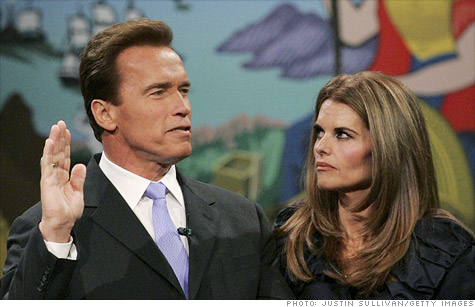 Arnold Schwarzenegger, a movie star who served two terms as California governor, could lose much of his wealth to impending divorce with Maria Shriver.
NEW YORK (CNNMoney) -- Arnold Schwarzenegger's indiscretions could cost him dearly, now that he's headed for divorce with Maria Shriver.
With the couple splitting, the future of Schwarzenegger's considerable wealth is uncertain, especially since he hasn't said whether he has a prenuptial agreement.
"Did they have a prenuptial? Nobody knows that yet," said J. Michael Kelly, a celebrity divorce lawyer in Los Angeles. Both parties were quite wealthy before they were married: Schwarzenegger as a movie star and Shriver as a television reporter and also a member of the Kennedy clan.
"He married royalty, so the question is would he dare actually propose a prenup to her?" mused Kelly.
Also unclear is exactly how much this Hollywood titan is actually worth, but estimates place his wealth in the hundreds of millions of dollars.
What is a matter of public record is what he owns, thanks to documents the ex-governor filed with the state of California. His portfolio is eclectic, ranging from a shopping mall in Ohio to a holding company that collects the proceeds from his legendary 1970's documentary "Pumping Iron."
According to the "statement of economic interests" document that Schwarzenegger filed early in 2011, as required in his former role as governor of California, the body-building champ owns millions of dollars worth of stocks.
But more importantly, Schwarzenegger, who was known as the "Austrian Oak" during his body builder days, owns Oak Productions, Inc., the business entity that presumably holds the intellectual property and contract rights for his blockbuster movies. The document doesn't mention specific films, but the firm likely serves as a conduit for earnings from the "The Terminator" and "Conan the Barbarian" franchises, and other Hollywood hits like "True Lies" and "The Running Man."
Oak Productions derives income from corporations including Warner Brothers Pictures, part of Time Warner (TWX, Fortune 500) (also parent of CNNMoney), Sony (SNE)'s film division, News Corp.'s (NWS) 20th Century Fox, MGM, Disney's (DIS, Fortune 500) Worldwide Services unit, CBS (CBS, Fortune 500)-owned book publisher Simon & Schuster and Mattel Inc (MAT, Fortune 500).
The document of economic interests says that Oak Productions has a fair market value of at least $1 million with income of at least $100,000.
But certified public accountant Tracy Stewart says that $1 million is just the bottom of the value range, and Oak Productions is certainly worth far more than that. She said that's typical in "statement of interest" documents, which specify the minimum value of individual assets, like $1 million in the case of Oak Productions.
"It could be a billion; it could be anything," she said. "There could be no limit as to how much he's worth."
This $1 million minimum also applies to a variety of other positions listed in the document, including a Goldman Sachs (GS, Fortune 500) fund, shares of Starbucks (SBUX, Fortune 500), and his real estate holdings, which includes a gym in Venice Beach, Calif.
The muscleman is still making money from projects that he launched before marrying Shriver in the mid-1980s. Pumping Iron America, which represents the holdings for the 1970s documentary that made him famous as a smug, Machiavellian bodybuilder with a penchant for women and marijuana, is still netting him as much as $100,000 per year.
Schwarzenegger also owns Fitness Publications, a publishing interest with Simon & Schuster that offers such titles as "Arnold's Fitness for Kids" and "The Muscular Gourmet." Earnings from these and other books, published mostly in the early 1980s, range from $10,000 to $100,000 per year.
Shriver, who has four children with Schwarzenegger, is leaving him because he fathered a fifth child with his former housekeeper, a secret that he kept for about 13 years.
If he doesn't have a prenup, Schwarzenegger could be in trouble. The statement of economic interests lists Shriver's assets -- stocks, real estate and trust funds -- as "separate property of spouse." Schwarzenegger's assets have no such designation and divorce lawyers say they could be considered "community" properties, meaning they're vulnerable.
"She could take up to half of anything earned during their marriage, less whatever they spent on living expenses," said Raoul Lionel Felder, the divorce lawyer for former New York Mayor Rudolph Giuliani, movie star Elizabeth Taylor and Liza Minnelli's former husband David Gest. "[Schwarzenegger] has a lot of dough and my guess is that he has a prenup."
But even that might not protect the former Governator, said Felder, because "many prenups self destruct after a number of years."
Felder said that prenups often contain a clause that dissolves them after 10 or 15 years. Schwarzenegger and Shriver have been married for 25 years, and during that time he has made many of his most lucrative films.
Without a prenup, half of Schwarzenegger's earnings over the last quarter-century could be "up for grabs" by Shriver, said Felder, which could spark a legal "World War III" between the celebrity spouses.
"It's going to be the most visible of divorces," said Felder.