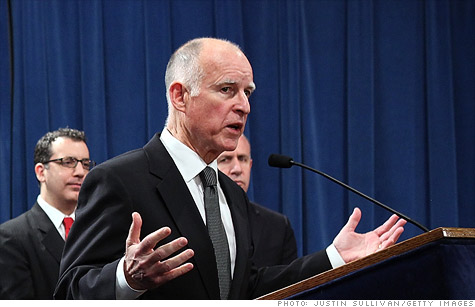 California Governor Jerry Brown unveils a revised budget to close a multi-billion budget gap.
NEW YORK (CNNMoney) -- California Governor Jerry Brown unveiled a revised budget Monday that calls for a $9.3 billion tax extension, coupled with a $2.6 billion cut in spending.
Despite steep opposition from Republican lawmakers and some of his own supporters, Brown is holding firm to his belief that the state's budget crisis should be addressed with a mix of tax hikes and spending cuts.

The governor did not unveil the draconian spending cuts that some observers had thought he would. Instead, he continued to press for an extension of tax hikes currently set to expire. And he still wants voters to have a say on the extension of the levies.
"I'm not going to give the Republicans a roadmap to ruin," said Brown, as he outlined his proposal to close the state's remaining $10.8 billion deficit to the press. "I'm going to give them a roadmap to success."
The governor was able to minimize the size of the tax extension, originally more than $12 billion, thanks to an unexpected jump in tax collection. The updated forecast calls for an additional $6.6 billion in revenues over the next two years.
Under the new tax plan, the quarter-percentage point increase in income tax rates would be revived in 2012. It expired at the end of last year. The proposal also calls for maintaining a 1 percentage point bump in the sales tax, which lapses at the end of June. The higher rates would remain in effect through 2015.
Meanwhile, state spending would be scaled back to 1972-73 levels, when Ronald Reagan was governor, Brown said. His plan calls for eliminating 43 boards and commissions, as well as 5,500 state employee positions. It also reiterates Brown's proposal to eliminate redevelopment agencies, which he called for in January.
The state's school system, however, would be see additional funding. Some $3 billion in education spending would be restored, although this is still $4 billion below 2007-08 levels, Brown noted.
Brown also wants to start paying down the "wall of debt," totaling $35 billion, that the state has accumulated. And he wants to put $1.2 billion in a reserve fund.
The governor also is throwing a bone to businesses. He would increase the size of a hiring tax credit and expand the number of firms eligible to claim it. And he is backing off of his call to eliminate enterprise zones.
Closing the gap
Though California still faces major financial challenges, much has changed since January, when Brown laid out his initial plans to close the state's $26 billion budget shortfall.
State officials have made some headway in resolving California's massive fiscal problems.

In March, the legislature approved a portion of the governor's plan, reducing the budget deficit by $14 billion through spending cuts and fund transfers. The package whacked $1.7 billion from Medi-Cal, the state's Medicaid program, and $1.1 billion from the state's university systems.

And on Friday, the state announced it would close up to 70 of the state's 278 parks to save $33 million over the next two years, as called for in the March plan.
But those moves still left a big hole in the state budget, leaving many in the Golden State to speculate which public services would be whacked.

The governor and lawmakers got an unexpected gift earlier this month when tax revenues came in higher than expected.
What ultimately happens in California remains to be seen. The GOP is still at odds with the Democratic governor. State Republican lawmakers, who firmly oppose any tax increase, released their own budget proposal last week. It relies on estimates that the state will take in an additional $5 billion in unexpected tax revenues and can wring $1.1 billion in concessions and savings from its public workforce.
It would also require the state shift $2.4 billion in dedicated revenue from mental health research and early childhood development programs to the state's general fund. And it would make deeper spending cuts.
"The budget approach that we outline today represents the common-sense solutions that we believe can be embraced by Democrats and Republicans alike in enacting a reasonable no-tax increase budget compromise," wrote Rep. Connie Conway, Assembly Republican Leader, in a letter to the House Speaker last week.