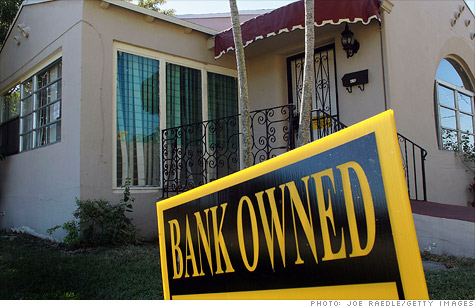 Florida's rocket-docket foreclosure courts are closing.
NEW YORK (CNNMoney) -- Say bye-bye to Florida's rocket-docket foreclosure courts.
Facing a major budget shortfall, state lawmakers have opted not to renew a $6 million shot of funds for the court system to dig its way out from an avalanche of foreclosures. Judges are concerned that the backlog will build again, especially if the pace of foreclosures picks up.
Last year's one-time allocation helped courts hire retired judges and staff to work through the 462,000 cases that had piled up during the mortgage meltdown. The judges whipped through dozens of cases a day, which raised concerns among consumer advocates that the courts were not giving homeowners their fair due.
The courts were supposed to clear 62% of the backlog with the special funding. As of March 30, they had disposed of 151,500 cases, or 33%. The money will run out by the end of next month.
Judges said they were grateful to have the additional funds because they could not have handled the foreclosure crush without it. Until the special foreclosure divisions were set up last summer, civil judges had to squeeze in foreclosure hearings alongside a full caseload of medical malpractice cases, negligence claims and other proceedings.
The 4th Circuit in northeast Florida hired six retired judges, who worked on a rotating basis to clear 17,900 cases. They disposed of 7,400 by the end of March and at least another 2,000 since then.
"It was extremely effective," said Judge A.C. Soud, who oversees that circuit's foreclosure division.
On the other side of the state, the 12th Circuit hired four case managers and three retired judges to plow through 21,600 pending foreclosure suits. There, it had been the lack of staff to prepare the files that held up the hearings.
Once the money is gone, Chief Judge Lee Haworth fears that it will take months before cases can be heard.
"I can find a judge to handle 250 cases in a day, but who will process the paperwork?" said Haworth, who saw the backlog drop by 29% over nine months. "We're very concerned."
Soud, however, said the money isn't needed at the moment because the number of new cases plummeted in the wake of the foreclosure paperwork scandal last fall. But he expects banks to ramp up their filings by early next year. If that happens, he said he'll look to the legislature for additional funds.
Not everyone was so enamored of the rapid-fire foreclosure hearings. Attorneys for homeowners complained that the proceedings moved so quickly that their clients didn't get a proper hearing.
Last month, the American Civil Liberties Union filed a petition in Lee County, where a special foreclosure court was set up in December 2008, saying the system denies homeowners a fair opportunity to defend their properties.
Judges, however, said everyone gets a chance to make their case. Homeowners are given the opportunity to go through mediation with their servicer before they ever get to court. And judges only speed through cases where homeowners don't show up, which is what usually happens.
"We want to help property owners," Soud said. "That's why we offer mediation."