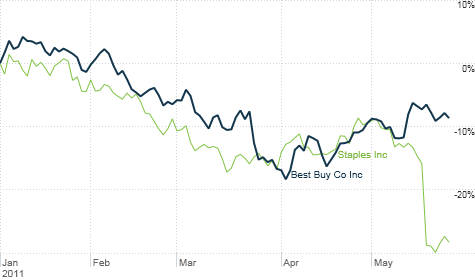 Several struggling retailers have received takeover offers in 2011. Are Best Buy and Staples next?
NEW YORK (CNNMoney) -- In the fickle world of retail, mediocrity -- or even outright failure -- is being rewarded.
How else to explain the recent rash of takeover offers for struggling chains?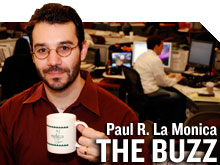 The latest example? California Pizza Kitchen (CPKI), which I pointed out in Friday's column about pizza stocks as the only pizza restaurant not rallying this year, is being bought by private equity firm Golden Gate Capital for $470 million. That's a more than 10% premium to Tuesday's closing price.
But California Pizza Kitchen isn't the only down on its luck consumer brand that has attracted interest. Last week, Barnes and Noble (BKS, Fortune 500) received a $1 billion bid from Liberty Media (LCAPA, Fortune 500), the conglomerate controlled by savvy investor John Malone.
Last month, bankrupt Blockbuster was scooped up by satellite TV firm Dish Network (DISH, Fortune 500) for $320 million.
Private equity firms have also been casting covetous glances at some of the deep discount dollar stores. Nelson Peltz's Trian offered to buy Family Dollar (FDO, Fortune 500) in February but Family Dollar rejected the offer. 99 Cents Only (NDN) is weighing a bid from Leonard Green & Partners and the retailer's founding family.
All this makes me wonder if other hard-hit retailers may also soon become takeover chum. Best Buy (BBY, Fortune 500) has been struggling for the past few months and shares are down nearly 9% this year.
Office products giant Staples (SPLS, Fortune 500) has plummeted more than 25% in 2011. Shares fell 15% in one day alone last week after the company's earnings and sales missed forecasts.
And apparel retailer The Gap (GPS, Fortune 500) (which always seems to be a turnaround story ... it's like the Yahoo of khakis) plunged 17% on Friday after the company warned of weak sales and said rising cotton costs could hurt profits.
All three companies have great brand name recognition, which could make them extremely valuable to a private equity firm that could swoop in and shut underperforming stores in order to try and revitalize profits.
Best Buy and Staples, much like Blockbuster, Barnes and Noble and its bankrupt rival Borders, are in a tough spot because the world just doesn't seem to need specialty superstores as much anymore.
Wal-Mart (WMT, Fortune 500) and Target (TGT, Fortune 500) are ridiculously competitive when it comes to price and fairly comprehensive in regards to product offerings, be it for flat-screen TVs or paper shredders. And there's little that you can't buy these days off Amazon.com (AMZN, Fortune 500).
So there's a good case to be made for Best Buy and Staples to be taken private so they can restructure without facing the critical glare of short-term focused traders.
The Gap is a bit trickier since fashion is the one part of retail where it's less of a commodity. Consumers don't always focus on price as the most important factor when shopping for clothes.
One potential problem with my M&A theory is that all three companies are significantly larger than the ones that have already been bought in the past few months. Each is currently worth more than $10 billion.
Trian's $7.1 billion bid for Family Dollar was the biggest offer in retail this year, according to data from Thomson Reuters. And the biggest retail deal that has closed thus far this year was the nearly $3 billion buyout of J. Crew by private equity firms TPG and Leonard Green.
Scott Tilghman, an analyst with Caris & Co. in Baltimore, added that Staples' smaller rivals Office Max (OMX, Fortune 500), worth less than $1 billion, and Office Depot (ODP, Fortune 500), with a market value of about $1.2 billion, might make more sense as takeover targets.
So don't be surprised if other well-known, albeit smaller, retailers continue to get scooped up by private equity firms or other investors. RadioShack (RSH, Fortune 500) has been mentioned as a prime LBO target for years. So has Dollar Tree (DLTR, Fortune 500), another big discount chain.
Make no mistake. Private equity firms are suckers for cash cows with strong brand names. And as long as moguls like Malone, and Dish's Charlie Ergen, have egos as big as their corporate war chests, it wouldn't shock me if there are more strategic deals for retail's fallen stars as well.
The opinions expressed in this commentary are solely those of Paul R. La Monica. Other than Time Warner, the parent of CNNMoney, and Abbott Laboratories, La Monica does not own positions in any individual stocks.