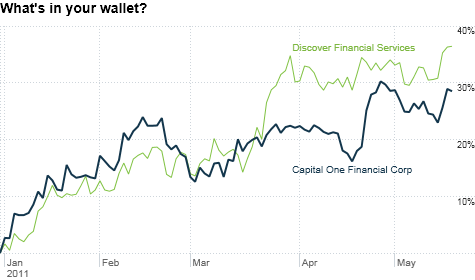 Credit card stocks have surged this year even though bank stocks have struggled.
NEW YORK (CNNMoney) -- The nation's biggest banks are sitting out this year's market rally. But credit card companies? That's another story.
Shares of Citigroup (C, Fortune 500), Bank of America (BAC, Fortune 500), Wells Fargo (WFC, Fortune 500) and Goldman Sachs (GS, Fortune 500) are all down this year. JPMorgan Chase's (JPM, Fortune 500) stock is up only 3%. American Express, however, is up nearly 20%, making it the second-best performer in the Dow Jones industrial average.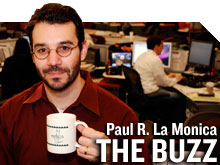 And AmEx (AXP, Fortune 500) has actually lagged the performance of Mastercard (MA, Fortune 500), Discover Financial Services and Capital One Financial. What's in your wallet? If it was shares of these credit card firms, you'd be a lot richer.
Why are the credit card companies doing so well at a time when banks are still struggling and consumers appear to be still somewhat wary of adding more debt?
Well, the mere fact that consumers seem to be acting more fiscally responsible (lawmakers in Washington may want to take notes) is one thing that's helping the big card stocks, particularly issuers like AmEx, Discover and Capital One.
Those three companies reported their latest monthly delinquency and charge-off figures on Monday -- and it looks like more consumers are paying their credit card bills in a timely fashion.
Delinquencies at AmEx were just 1.7% of balances in April, an industrywide low. Discover's (DFS, Fortune 500) delinquency rate fell to 3.15% -- the lowest since 2006. Capital One's (COF, Fortune 500) delinquency rate was just 3.4%. What's more, default rates were down for all three issuers too.
"The credit card business has been one of the fastest to rebound from the financial crisis," said Michael Taiano, an analyst with Sandler O'Neill & Partners in New York. "People assumed that consumers would default on credit cards before other loans because there is no collateral. But that hasn't been the case."
Of course, this isn't a great sign for the housing market and broader economy.
Many consumers appear to have come to the conclusion that it's better to hang on to the cards and just ditch the mortgage payment. The foreclosure process -- even before the robo-signing scandal -- tended to drag on and people used that to their advantage.
Still, it goes without saying that if the card issuers have to write off a smaller percentage of loans as bad debt in coming quarters, that's great news for the financial health of these companies.
Taiano said he thinks that charge-off rates for AmEx, Capital One and Discover may even fall below historical averages over the next 12 to 18 months.
"Most of the initial bad accounts have written off and issuers are left with very high quality loan portfolios," he said.
Still, this doesn't explain why Mastercard, and to a lesser extent Visa (V, Fortune 500), are also stock market studs this year.
They are network operators, not companies which actually issue cards and collect payments. So their fortunes are tied more to card usage -- in particular the amount of money that gets put on credit or debit cards.
But it looks like the pain at the pump we all are complaining about is probably helping the two card giants.
"With gas prices going up so much, Visa and Mastercard get a boost to transaction volume," said Thomas McCrohan, an analyst with Janney Capital Markets in Philadelphia who covers Visa and Mastercard.
Sure, gas prices could quickly become a negative for Visa and Mastercard and the card issuers if consumers really start to rein in spending elsewhere.
But Visa and Mastercard may also be benefiting from more political puffery in Washington. Both companies have come under attack from lawmakers as part of the Dodd-Frank financial reform bill passed last year.
An amendment to that law introduced by Democratic senator Richard Durbin of Illinois gives the Federal Reserve power to govern the so-called swipe fees that Visa and Mastercard charge retailers for debit card transactions. The Fed is supposed to implement new rules by July 21.
However, Visa and Mastercard and several banks have lobbied heavily against this. And there has been a call from some in Congress to delay the implementation of the Durbin amendment.
Senator Jon Tester, a Democrat from Montana, has introduced a bill to delay the implementation of the Durbin amendment by two years.
It's uncertain whether the bill can pass but investors clearly seem less worried about Durbin than they were last year. Shares of Visa and Mastercard both fell in 2010.
So if the economy continues to slowly but surely improve and the regulatory cloud over the credit card industry lifts, the credit card companies may still be decent bargains.
At the very least, Taiano said the card companies should keep outperforming the bigger banks.
The opinions expressed in this commentary are solely those of Paul R. La Monica. Other than Time Warner, the parent of CNNMoney, and Abbott Laboratories, La Monica does not own positions in any individual stocks.