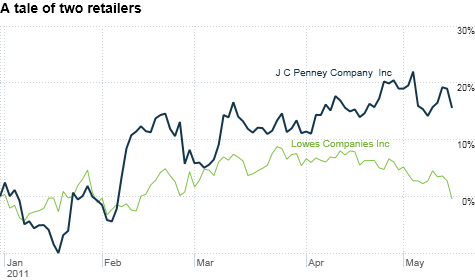 Consumers still seem to be spending at department store chains like J.C. Penney despite high gas prices. But a weak housing market has taken its toll on Lowe's.
NEW YORK (CNNMoney) -- It is a meteorological oddity that defies explanation.
The weather apparently has been so bad this spring that people couldn't be bothered to get in their cars and drive to home improvement retailer Lowe's to shop. But consumers still were able to put on their raincoats and schlep over to J.C. Penney, Macy's and other department stores.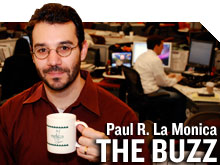 Yes, kids. Retailers are still fans of those lip-synching wonders Milli Vanilli. They blame it on the rain when things don't go their way.
The CEO of Lowe's, which reported Monday morning that its latest sales and earnings missed forecasts, cited "unfavorable weather conditions" as one reason for poor results. Shares of Lowe's (LOW, Fortune 500) fell about 3% on the news. Home Depot (HD, Fortune 500), which will report Tuesday morning, was down slightly as well.
To be fair, Lowe's CEO Robert Niblock also said that "ongoing economic pressures" and tougher comparisons to last year's results -- which were lifted thanks to government stimulus -- were also to blame. So it wasn't just about bad weather.
But even those sound like hollow excuses. Yes, we all know that the economy isn't in great shape. However, the "ongoing economic pressures" may be code for "awful housing market."
"Sales of appliances and other big ticket items is very much tied to home construction and home buying. And that market pretty much remains dead. It's depressed," said Steve Blitz, senior economist for ITG in New York.
The fact that J.C. Penney (JCP, Fortune 500) was able to report such a solid quarter -- same-store sales were up 3.8% and profits rose nearly 7% -- is a sign that the economy can't be THAT bad.
Consumers may not be interested in buying big appliances and building materials. But they apparently are shopping for clothes. J.C. Penney said its two strongest merchandising categories in the quarter were women's and children's apparel.
And J.C. Penney's results are not an anomaly. They are part of a broader trend. Department stores by and large enjoyed solid results in the past quarter.
Macy's (M, Fortune 500) profits soared past expectations and the company even doubled its dividend. Dillard's (DDS, Fortune 500) profits blew away forecasts too. And Kohl's (KSS, Fortune 500) lifted its outlook for the year.
This is very telling, especially when you consider that rising gas prices have been on everyone's minds this quarter. Even with many people across the nation paying close to $4 a gallon, consumers still drove to the malls to hit the department stores. Why?
Simply put, it's all about the improving job market. During the past three months -- the period that corresponds with the most recent quarter for many retailers -- 700,000 jobs have been added. This seemed to help offset any pain at the pump.
"We have had job growth. Without that, the sting of gas prices might have made things worse for retailers," said Stuart Hoffman, chief economist for PNC Financial Services in Pittsburgh.
It's encouraging that department stores, which some have written off as anachronisms whose best days were in the 1940s, have been doing well. Stores like Macy's and J.C. Penney face tough price competition from big box stores like Wal-Mart (WMT, Fortune 500) and Target (TGT, Fortune 500) as well as dollar stores.
So if consumers are willing to spend a little more, it may show that they're truly feeling more upbeat about the economy and less worried about losing their job.
But how long can this last? Some experts are worried that high gas prices will eventually take their toll on consumers and retailers.
And even though the "bad weather" excuse is somewhat tired, the damage from the floods across many states in the Midwest and South could eventually hurt consumer spending.
"People may be underestimating the potential impact of the Midwest floods on consumption," said Jason Pride, director of investment strategy with Glenmede, a money manager in Philadelphia.
Pride said his firm is starting to pull back on retail stocks. He said he does expect the economy to soften a bit in the coming months. But he also pointed out that many retail stocks, especially the department store chains, have already enjoyed a solid run this year.
Shares of Macy's are up more than 10% in 2011 while J.C. Penney's stock has gained more than 15%. Dillard's has soared 46% so far this year.
Blitz added that the decent sales for the past quarter may not be repeated in the next few quarters. He said that consumers remain nervous. They may spend when there are bargains. And those bargains are typically around major holidays like Easter and, of course, Christmas.
"There is normally a blip for general merchandise retailers in the spring," Blitz said. "What we've seen the past few years is consumers buy during the holidays and then put their hands in their pockets. It's not sustainable."
Blitz said that the rest of the year may be "underwhelming" for consumer spending. If he's right, then Lowe's may not be the only retailer looking at the thermometer to try and explain lousy results.
Karma Police. Not really sure what I have to add to the story about Dominique Strauss-Kahn's arrest. But I did use it as an excuse to issue a pop culture challenge over on Twitter. A song immediately came to mind that actually mentions the IMF in a lyric.
So I asked followers to name this tune: "Riot shields. Voodoo economics. It's just business. Cattle prods and the IMF."
Jeremy Blaine, aka @BlaineJP, was the winner. He correctly pointed out it was "Electioneering" off of Radiohead's timeless "OK Computer" album. Nice work, Jeremy. To quote another track off that album, "It's gonna be a glorious day."
The opinions expressed in this commentary are solely those of Paul R. La Monica. Other than Time Warner, the parent of CNNMoney, and Abbott Laboratories, La Monica does not own positions in any individual stocks.