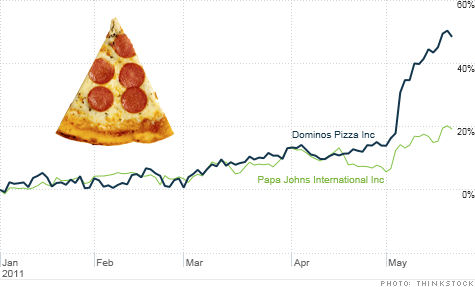 Shares of pizza pure play stocks Domino's and Papa John's have been Wall Street studs in 2011.
NEW YORK (CNNMoney) -- There's nothing hotter than a pizza fresh out of the oven -- except pizza restaurant stocks.
Shares of Yum! Brands (YUM, Fortune 500), the parent of Pizza Hut (as well as KFC and Taco Bell), are up 14% this year and are near an all-time high. Papa John's (PZZA) has gained 20% this year and are close to a 52-week high. And then there's Domino's (DPZ). It's soared more than 50% in 2011!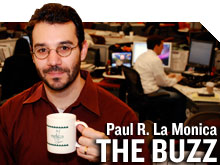 If this trend continues, I'm sure it won't be long before someone comes up with the idea to create a triple-leveraged ETF that goes long in pizza stocks. Might I suggest the ticker symbol PIES?
It's amusing to me that these stocks are doing so well. As someone who has spent pretty much his entire life in the NYC metropolitan area, I know good pizza. (Yes, Chicagoans, I know you do too. Deep dish is yummy.) And I am far more apt to support local joints than a big national chain.
Now if Di Fara in Midwood, Brooklyn (and amazingly enough coming soon to Vegas) or Vic's down on the Jersey Shore in Bradley Beach decided to go public, I'd want to get in on those IPOs.
But my pizza prejudices aside, it looks like there's a pretty compelling reason why the pizza stocks are big hits on Wall Street: earnings.
Yum's profits have been tasty as of late but its success can't be tied just to pepperoni and anchovies. The company's made a huge splash in China with KFC.
The two pizza pure plays have delivered great results as well though. Papa John's reported first quarter profits that beat estimates earlier this month. Same-store sales in North America rose a healthy 6.1%. Domino's earnings blew by forecasts thanks in part to solid international sales.
And the pizza stocks are part of a broader trend. Casual dining companies are broadly doing well.
Red Robin Gourmet Burgers (RRGB) reported strong earnings Thursday and its shares soared more than 20% Friday. Chipotle Mexican Grill (CMG) has been a favorite of momentum traders because its sales and profits have been "muy caliente." The stock's up 30% in 2011 and has more than doubled in the past year.
Relatively cheap eats are a strong selling point to budget-conscious consumers in what's still a lousy economy. So it shouldn't be that surprising that pizza and other bargain restaurant stocks are Wall Street darlings.
However, not all pizza companies are enjoying prosperous times. Sbarro recently filed for bankruptcy protection. And California Pizza Kitchen's (CPKI) stock has fallen 5% this year as sales have been sluggish. Call me a pizza purist but Jamaican Jerk Chicken pizza and California Club pizza is just plain wrong.
And any investor that's looking to join the pizza party now might want to think twice. Yum, thanks to its China presence and more diverse lineup of restaurants, is probably the best bet in the sector.
Analysts are forecasting average earnings growth of 13% a year for the next few years for Yum, compared to just 9% for Papa John's and 10% for Domino's.
Still, investors have to realize that they're paying a healthy premium for that growth. If Domino's and Papa John's are regular slices, Yum is a Sicilian. Shares trade at 20 times earnings estimates for 2011. Papa John's and Domino's are each valued at about 16 times this year's profit forecasts.
And all three stocks face some challenges ahead. Rising commodity costs may hurt. Both Domino's and Papa John's cited surging prices of cheese as something that could weigh on margins.
Pizza stocks may not yet be a bubble. This isn't LinkedIn (LNKD) we're talking about. But any time a sector suddenly looks overheated, it pays to put on some oven mitts before handling the stocks so you don't get burned.
Reader comment of the week. Speaking of LinkedIn, there were many tweets about it Thursday following its wildly successful IPO. My favorite was a question by Ketih McMahon.
He asked, "Can you explain to me all the hype on $LNKD? That site is like the red headed step child of social networking."
Great point. To be fair, I think some of the comparisons to 1999 are unfair because LinkedIn is a real company with a diverse revenue stream. Ads are just a small part.
Still, many people I know talk about how they signed up for LinkedIn years ago and rarely use it. I don't think LinkedIn is going the way of MySpace or Friendster. But it's awfully tough to justify a $10 billion market cap at this stage.
The opinions expressed in this commentary are solely those of Paul R. La Monica. Other than Time Warner, the parent of CNNMoney, and Abbott Laboratories, La Monica does not own positions in any individual stocks.