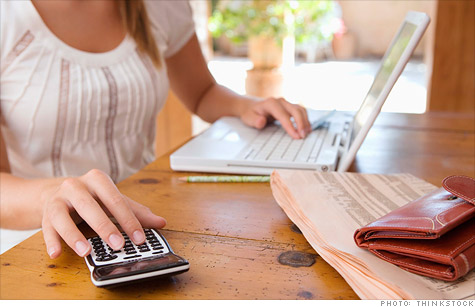 If you've lost your job, you can still invest, say experts ... but with caution.
NEW YORK (CNNMoney) -- When Jonathan Adams lost his job last December, he didn't panic -- or pull all of his savings out of the market.
They were lucky. Adams, a former mortgage broker, and his wife Kendall, had stashed away a rainy day fund of $25,000 over the years.
During the past six months, they've tapped into those savings to supplement Kendall's income as a part-time public relations coordinator to pay for household bills as well as for Jonathan's executive MBA classes.
They were also prudent.
"We've scaled back our day-to-day expenses, and I'm back in school to help reinvent myself as I'm hunting for a new job," said Jonathan, 32, of Louisville, Ky.
As the Adams' emergency fund dwindles, they say the next step in their plan is to dip into the $50,000 they have parked in a floating-rate fund, which invests in bonds with interest rates that would rise along with the market.
That should cover their short-term needs. They're hoping that Jonathan, who has been interviewing, will land a job soon so they can leave the $125,000 sitting in an IRA untouched.
"We consider our retirement money to be a last resort," said Jonathan. "Things would have to be really rough for that money to really be up grabs."
And experts say the Adams' strategy is exactly right.
"Investors often panic when they're going through a job transition and don't consider the tax consequences and penalties of cashing out of their retirement savings built in a 401k or IRA," said Beth McHugh, vice president of market insights for Fidelity.
Investors who withdraw money from their retirement accounts before they hit the age of 59-1/2 must pay income taxes on their earnings plus a 10% penalty fee.
Two-thirds of investors who opt to cash out of their long-term investments after losing their job typically regret the move, according to a Fidelity survey.
"Investors should leave their retirement account alone," said Christine Benz, director of personal finances at Morningstar. "They wouldn't be contributing to it while unemployed, but they don't have to change how the assets are allocated."
To avoid being sorry, experts say trim down your expenses to the necessities and use any cash you have stowed away.
If you've got reserves for about six months of the basic expenses covered, you can invest in the market, said Mark Lamkin, CEO and chief investment strategist at Lamkin Wealth Management.
But investing while unemployed comes with risk so it pays to be cautious.
"We don't advise people to get out of their investments when they lose their job, but they have to be prudent," said Frank Fantozzi, CEO of Planned Financial Services, a wealth management firm in Cleveland. "They need to minimize risks and change up their portfolio so it can provide a certain level of income."
He recommends the Pimco Total Return Fund (PTTDX), which invests in U.S. government, corporate, municipal and foreign bonds.
Bonds are a good bet because they are relatively safe and the interest you earn can see you through up to five years. Fantozzi also likes blue chip stocks that pay dividends, such as Procter & Gamble (PG, Fortune 500) and AT&T (T, Fortune 500).
He said plenty of funds, such as the Vanguard Wellington Fund (VWELX), capture both strategies since they invest in dividend paying stocks as well as fixed income securities such as corporate or municipal bonds, and U.S. Treasuries.
"Think about stair stepping your portfolio: what you need on hand immediately should be in cash, and what you might need within a few year should be in bonds," said Benz.