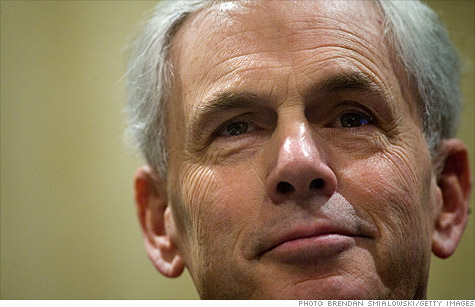 President Obama nominated John Bryson to lead the Commerce Department.
NEW YORK (CNNMoney) -- President Obama announced his choice to lead the Commerce Department on Tuesday, selecting John Bryson, the former CEO of the utility company Edison International.
If confirmed, Bryson would succeed Gary Locke, who has been nominated to serve as ambassador to China.
Bryson brings significant business experience to the agency, having served as CEO and chairman of the parent company of Southern California Edison (EIX, Fortune 500) from 1990 to 2008.
"John is somebody who will bring to this job a wealth of experience in the public and in the private sectors," Obama said, before praising Bryson's work with environmental groups and his leadership in the clean energy industry.
The appointment is the latest example of the commitment Obama has made to improve relations with the business community, after getting off to a rocky start.
In January, Obama brought banker and lawyer William Daley on board as his chief of staff after suffering a self-described "shellacking" in the midterm elections. And General Electric (GE, Fortune 500) boss Jeffrey Immelt signed on to lead the president's new Council on Jobs and Competitiveness.
At Commerce, Bryson will continue to pursue Obama's goal of doubling American exports, and will play a key role in shepherding the administration's free trade agreements into effect.
But those free trade agreements are a bit of a mess at the moment -- and could end up delaying Bryson's confirmation.
In March, Senate Republicans threatened not to confirm Obama's nominee for commerce secretary unless he sent Congress trade treaties with South Korea, Colombia and Panama for ratification.
The White House responded by saying it won't forward the treaties to Congress for approval unless lawmakers work out a deal to extend funding for a jobs retraining program for laid-off workers.
The U.S. Chamber of Commerce, Washington's most powerful business lobby, said it was looking forward to working with Bryson and expressed hope he would be a strong voice for the business community.
"An agenda that jumpstarts passage of our stalled trade agreements, weeds out needless regulations, leads to a more competitive tax code, and ensures small business access to capital would be strongly supported by the U.S. Chamber," said Tom Donohue, the group's CEO.
The nomination of Bryson to the top post at Commerce also means that Google (GOOG, Fortune 500) Executive Chairman Eric Schmidt will be keeping his day job. The tech visionary had been rumored to be on the short list for the position.
Bryson retired from Edison in 2008, and is currently a senior adviser at private equity firm Kohlberg Kravis Roberts & Co (KKR, Fortune 500).
--CNN chief White House correspondent Ed Henry contributed to this report.