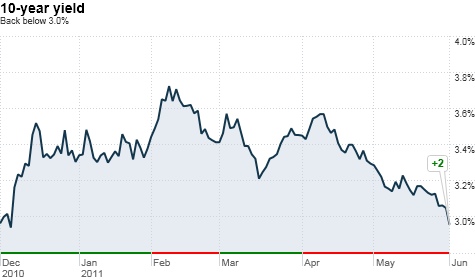 Click chart for more bonds data.
NEW YORK (CNNMoney) -- Fears of a sustained economic slowdown pushed the 10-year Treasury yield below 3% for the first time since December.
Two dismal reports on private sector employment, coupled with lackluster manufacturing numbers both in the United States and abroad lent support to fears that the global economy is losing its momentum.
"We are beginning to move further and further away from a 'temporary dip' in the recovery and looks more like an out and out 'double dip' instead," Kevin Giddis, executive managing director at Morgan Keegan, wrote in a note to clients.
All that fear inspired investors to seek out safe-haven Treasuries, as yields dropped and prices climbed across the board in early trading on Wednesday.
The benchmark 10-year yield dropped, closing at 2.95%, while the 30-year note fell to 4.14%, the 5-year declined to 1.60% and the 2-year note hit 0.44%.
The buying spree was kicked off by disappointing employment numbers in the first of this week's jobs reports. A report from Challenger, Gray & Christmas showed that the pace of planned job cuts edged higher in May. A second report from ADP showed private-sector payrolls added only 38,000 jobs in May.
Already rattled after the jobs reports, investors then faced a report from the Institute for Supply Management, which showed the U.S. manufacturing index for May fell to 53.5, far worse than expected.
"We have now formed a very consistent pattern of weakness and the bond market is responding to the fundamentals by taking more 'risk' off the table," Giddis said.
The rapid-fire of bad data sets the stage for Friday's government jobs report, a critical measure of the economy's health.
A CNNMoney survey of 24 economists expect that report to show a total gain of 175,000 jobs, and a private sector gain of 190,000, with the unemployment rate edging down to 8.9%.