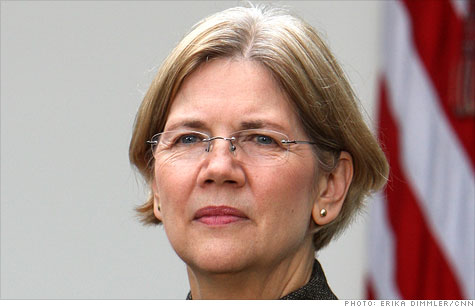 White House adviser Elizabeth Warren returns to Capitol Hill to face Republican critics later this month.
WASHINGTON (CNNMoney) -- White House adviser Elizabeth Warren's reward for dealing with a cantankerous House committee last week: Another even longer day with many of the same congressmen.
House Oversight Committee chair Darrell Issa asked Warren to come back for more questioning after the tense hearing, which ended abruptly when Warren left due to a previously scheduled event in her capacity setting up the Consumer Financial Protection Bureau (CFPB).
Issa's letter said he wanted to question Warren again to give lawmakers more time to grill her. He cited her "unwillingness to provide direct and responsive answers to a number of important questions" at last week's hearing, according to the letter.
The California Republican asked her to clear an entire day in June for the hearing. The hearing would be Warren's third appearance before a GOP-controlled House panel this year.
"The American people have a right to know how you intend to organize and operate the CFPB," Issa said in the letter.
Warren is a consumer advocate and Harvard University professor who's currently working for Treasury and the White House. Her job is to ensure the consumer bureau is ready to start regulating mortgages and credit cards on July 21.
Republicans in both chambers are pursing legislation to shrink the new agency's powers and to get rid of the top job, bureau director, and replace it with a commission.
Warren "looks forward to her next appearance before the committee," said Jennifer Howard, spokeswoman for the consumer bureau.
"As the former chair of the Congressional Oversight Panel, Professor Warren appreciates the importance of and value in checks and balances," Howard said.
During last week's hearing, Warren got into a testy exchange with Rep. Patrick McHenry, a North Carolina Republican, who declared the bureau a "super class of administrative elites."
McHenry accused Warren of hiding the truth the last time she went before Congress, and he also got into an argument with Warren about how long she could remain for questioning.
Warren said she had a prior engagement at 2:30 p.m. ET, and at 2:15 p.m. ET, McHenry wanted to keep Warren around so other members of Congress could ask her questions.
Warren said she had an agreement with GOP staff that she could leave at 2:30 p.m. ET, but McHenry accused of her "making this up" -- although he dismissed her anyway.
The Consumer Financial Protection Bureau was created as a part of last year's Dodd-Frank Act, which Congress passed to rewrite the financial rules of the road to prevent the next financial crisis.
The bureau's primary duty is to oversee financial products -- such as mortgages and credit cards -- and ensure they're clear, understandable and don't obscure hidden fees that consumers can't figure out.
But ever since Republicans took over the House, they've been focused on curbing and reversing powers of the consumer bureau, saying the new federal agency has too much power and lacks oversight.
Republicans have taken particular aim at Warren, who came up with the idea for the bureau and is a top candidate to run that new agency. They don't like that the White House appointed her to create the new bureau in an advisory position, meaning Warren is doing all the work of creating the bureau without having to weather a Senate confirmation battle.
And some speculate the White House could appoint Warren to run the bureau through the end of 2012 through a recess appointment. That move would be in response to a Senate Republican threat to block any other nominations until a director is in place.