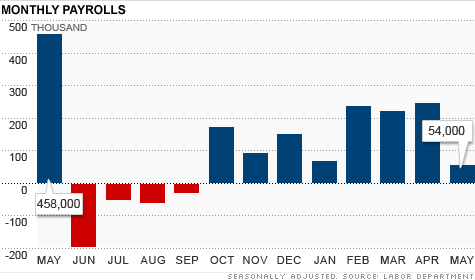 NEW YORK (CNNMoney) -- In yet another alarm bell of a weakening U.S. economy, the job market took a disappointing turn in May.
The economy gained a mere 54,000 jobs in the month, a significant slowdown from 232,000 jobs added to payrolls in April, the government reported Friday.
The report was a major disappointment to economists who were expecting a gain of 170,000 jobs, according to a CNNMoney survey. Most believe the economy needs to add about 150,000 jobs a month just to keep pace with population growth.
The unemployment rate worsened to 9.1% from 9% in April. Economists had predicted the rate would improve to 8.9%.

"It is now pretty clear that the economy ran into a brick wall last month," said Paul Ashworth, chief U.S. economist for Capital Economics, in a research note. "The extent of this slowdown is becoming a big concern."
While investors and economists, were already bracing for a weak report, the number shook markets and rattled forecasters. U.S. stocks plunged on the news Friday, and many economists slashed growth projections. They said the combination of weak hiring and other recent disappointments in the health of consumer spending, home values and manufacturing suggest serious problems in the economy that will not be easy to overcome.
"Is this transitory? The answer is no," said Lakshman Achuthan, managing director of Economic Cycle Research Institute. He said this report could raise further doubts among employers about the strength of the recovery, which could cause them to pull back even more on hiring plans.

The report included other signs of growing pains for the unemployed. The number of jobless who have been out of work for more than six months jumped by 361,000, bringing the average number of weeks the unemployed job seekers have been out of work to just under 40 weeks, a record high.
Overall, the number of unemployed rose by 167,000 to 13.9 million, the highest so far this year.
But government's ability to respond to the downturn in hiring is fairly limited. With a debate raging over deficits and the need to raise the debt ceiling, there is little consensus in Congress about passing additional tax cuts or other stimulus spending to try to spur growth. The stimulus money approved by Congress in early 2009 is about to come to an end. The Federal Reserve will conclude its previously-announced purchases of $600 billion in Treasuries later this month, an effort it took last year to spur growth after a similar slowdown in hiring.
But some optimists cautioned not to read too much into one report that was admittedly a major disappointment.
"There are always ebbs and flows to the jobs market," said Scot Melland, CEO of Dice Holdings, a provider of career Web sites. "One month does not a trend make. This comes on the back of three strong months of jobs growth."

Employers getting jittery

Businesses have pulled back on hiring since higher prices of gas, food and other commodities pushed up costs and forced consumers to cut spending on other items, hurting demand for employers' products.
"Today's report clearly indicates that rising raw material and energy prices are taking a toll on the economy," said Chad Moutray, chief economist, National Association of Manufacturers.
Businesses added 83,000 jobs in May, less than half what what economists had been expecting. It was the weakest level of business hiring in 11 months and comparable to the disappointing report by payroll processing firm ADP earlier this week that signaled a sharp decline in the pace of hiring.
The extent of the cutback in hiring was widespread. Manufacturers cut jobs for the first time since October, as the auto sector was impacted by supply disruptions from the Japanese earthquake earlier this year.
Retailers, who had one of their best hiring months in years in April, pulled back by trimming nearly 9,000 jobs. Overall, nearly half of the industries tracked by the Labor Department cut payrolls during the month, the most widespread job losses in eight months.
Things were even worse in the public sector, as the government cut 29,000 workers during the month, with most of the decline coming from local governments. Both teachers and other municipal workers such as fire fighters and police lost their jobs due to budget cutbacks. The tight budgets have caused state and local governments to trim 175,000 workers off their payrolls over the last six months.
A series of negative employment reports recently have raised concerns among economists that hiring is losing steam after a good start to the year. Revisions for March and April shaved another 39,000 jobs off of total payrolls for the year, bringing year-to-date job growth to 783,000 workers.