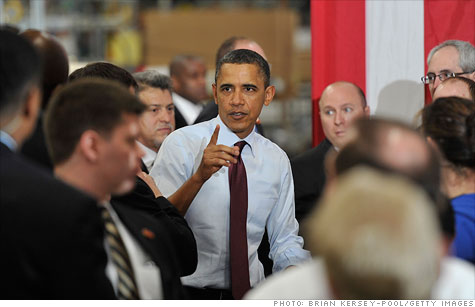 NEW YORK (CNNMoney) -- Is President Obama moving closer to a one-term presidency with every disappointing economic datapoint, unemployment report and stock market stumble?
Democrats of course hope that isn't the case, but political scientists say that in almost every election, the economy does indeed turn out to be issue No. 1.
Right now, that's just flat out bad news for Obama.
On Friday, a government jobs report indicated that only 54,000 jobs were added last month and the unemployment rate rose to 9.1% -- troubling signs that the recovery is wavering.
And it's not just jobs. Manufacturing growth is slowing both in the United States and abroad. Home prices are in a confirmed double-dip. Consumer confidence is declining.
To top it off, the Dow Jones Industrial Average (INDU) has dropped almost 5% in the past month.
It's a trend that should be setting off alarm bells at Obama's 2012 campaign headquarters.
"There is a close connection between the economic data that comes out and how people feel. If bad numbers keep coming out, that is going to translate to voters," said Randy Stevenson, a professor at Rice University who studies the relationship between economic conditions and electoral politics.
Voters are already making the connection.
Obama's overall approval rating has edged up in CNN polling, thanks to his performance on international issues and national security. But the number of Americans who approve of his handling of the economy is stuck at a dismal level -- only 41%.
And in May, only 39% of Americans said they think things are going well in the country -- another crucial polling test.
An election victory will require more. In the four instances since 1976 where the incumbent party retained the White House, an average 67% of Americans said things were going well in the month before they went to the polls.
There is still eons of time until the election, but political and policy realities stand in the way of any major administration initiatives to pump new life into the economy.
The Federal Reserve is wrapping up the second round of its bond-buying program, a $600 billion adventure designed to spur growth. There are no plans for another infusion at the moment.
With Republicans firmly in control of the House, legislative avenues for passing another stimulus package are blocked. If the U.S. wasn't already struggling under massive debt, tax cuts might have been option but are now a political impossibility.
That leaves the administration with limited options for lowering the unemployment rate, possibly the most visible example of the economy's health for voters.
Unemployment peaked at 10.1% in October 2009. But economists surveyed by CNNMoney are forecasting that it will fall only to 8.5% by the end of 2011.
That means Obama has a long way to go.
"I think that given all the other factors, if unemployment is lower than 8.0%, he wins," said Stevenson. "It's really hard to find cases where incumbents are retained when unemployment is that high above historical norms."
On Thursday, White House Press Secretary Jay Carney offered a preview of the administration's campaign message on jobs.
"The president took dramatic action," Carney said. "We have now experienced 14 straight months of private sector job creation, 2.1 million jobs created."
But even if the White House can make progress on the jobs front, that doesn't mean voters will be ready to forgive Obama for the tough conditions that persisted through most of his term.
"A bad economy will always hurt you, the only question is how much. And an economy this bad is going to hurt him in a big way," Stevenson said.