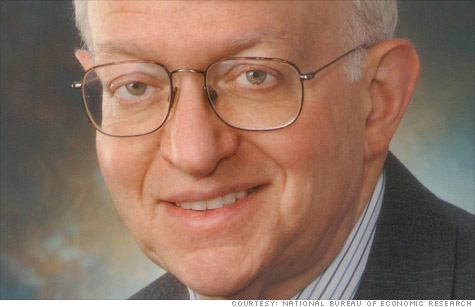 Martin Feldstein
NEW YORK (CNNMoney) -- The struggling U.S. economy is in even worse shape than it appears, and the Obama administration has done little to help, according to influential economist Martin Feldstein.
In a Wall Street Journal column published Wednesday, Feldstein argues that as bad as some headline economic numbers such as gross domestic product have become in recent months, "the picture is even gloomier if we look in more detail."
Feldstein is an economics professor at Harvard University. He's also the retired president of the National Bureau of Economic Analysis, the well-regarded organization that determines when the economy falls into recession, as well as when recessions come to an end.
He was one of the first top economists to call the start of what became the Great Recession, telling CNNMoney in early January 2008 that a recession was "likely." The recession was later determined to have begun in December 2007.
Feldstein has also served as a top adviser and policymaker for every Republican administration since Ronald Reagan, for whom he served as chairman of the Council of Economic Advisers. In his role as an adviser to George W. Bush's campaign, he is widely seen as the father of the tax cuts that were passed early in that administration.
In Wednesday's column, Feldstein points out that while gross domestic product the broadest measure of economic activity, grew at a disappointing 1.8% rate in the first quarter, much of that growth was due to businesses increasing inventory. Sales grew at an even more dismal annual rate of 0.6%.
"A sustained expansion cannot be built on inventory investment. It takes final sales to induce businesses to hire and to invest," he wrote.
While second-quarter GDP won't be reported until late July, Feldstein points out that monthly estimates for April show the economy sliding. He said leading economic indicators, which are designed to predict what's next for economic growth, fell for only the second time since the spring of 2009.
"The data for May are beginning to arrive and are even worse than April's," he added. "They are marked by a collapse in payroll-employment gains; a higher unemployment rate; manufacturers' reports of slower orders and production; weak chain-store sales; and a sharp drop in consumer confidence."
Feldstein blames the Obama administration for much of the economic mess - but not in the same ways that orthodox Republicans would. He suggests that the $830 billion stimulus package passed in 2009 by Democrats -- over almost universal Republican opposition -- was not big enough to make up for the drop in demand for the economy. That's an argument usually made by liberal economists rather than conservative ones.
And rather than say that there should have been more emphasis on tax cuts in the stimulus, as Republicans typically do, he says that direct government spending is the more effective. He believes the money should have been spent on military equipment in Iraq and Afghanistan rather than to support state and local governments and other public works, as the Obama stimulus package did.
He also opposes Obama's calls for higher tax rates on top earners and multinational corporations.
"With that higher-tax cloud hanging over them, it is not surprising that individuals and businesses do not make the entrepreneurial investments and business expansions that would cause a solid recovery," Feldstein said.
But he also said the administration's failure to deal with future budget deficits and exploding national debt is another major problem for the economy.
"The economy will continue to suffer until there is a coherent and favorable economic policy," Feldstein concludes.