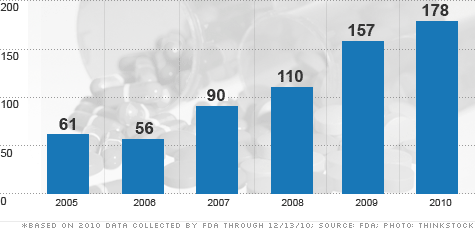 In 2010 178 drugs experienced shortages in the U.S.. That's an all-time high and regulators blame quality and manufacturing problems for the crisis.
NEW YORK (CNNMoney) -- The number of drug shortages is at a record high, and the Food and Drug Administration is warning that they are getting even worse.
Fueling the problem are shortages of raw materials. Also, drugmakers are discontinuing older, and off-patent drugs in favor of newer and more profitable ones, and issuing large recalls of drugs due to quality problems, the agency said.
In 2010, 178 drug shortages were reported to the FDA. These include cancer drugs, anesthetics used in surgery, a large number of "sterile injectables" -- medicines that are given intravenously -- and "crash cart" drugs used in emergency treatments.
Valerie Jensen, FDA's expert on drug shortages, said regulators are seeing a large number of new drug shortages in 2011 as well.
Jensen said the agency is especially concerned about the danger to consumers from shortages of injectable drugs, which represented more than half of the shortages reported last year to the FDA.
These are oncology drugs, drugs used during surgery and emergency treatments.
"Companies have told us that these injectable drugs are older drugs and not as profitable," she said. "They've told us it's a business decision to discontinue production."
Over the last six years, the number of prescription drug shortages in the country has nearly tripled, the agency said.
Recently, several over-the-counter drugs such as Tylenol and Motrin made by Johnson & Johnson (JNJ, Fortune 500), have also been recalled in large quantities, reportedly leading to shortages of these drugs as well.
But Jensen said the FDA did not have an assessment of shortages of those and other non-prescription medicines.
The FDA defines a drug shortage as a situation in which the total supply of all a drug, and all of its approved alternatives, is inadequate to meet demand.
Many prescription drugs that consumers take by mouth each day, such as medicines to treat Attention Deficit Hyperactivity Disorder, are also in short supply, the agency said.
Drug shortages are hitting patients in hospitals particularly hard, the agency said.
Since drugmakers aren't mandated to report drug shortages to the FDA, the agency said it is urging companies to voluntarily alert regulators of impending scarcities "in the interest of public health."
"FDA is doing everything within its regulatory authority to address these shortages when they occur," Jensen said.
The FDA is especially focusing that effort on shortages of the most critical drugs, those that are used to treat or prevent a serious disease or medical condition.
Many of these critical drugs don't have alternative medicines available in sufficient supply, the agency said.
The agency said when it gets advance warning from a manufacturer that a shortage could occur, it will approach other firms that also make the drug to see if they can ramp up production to avoid any supply gap.
The FDA may also approve limited imports of foreign versions of a drug that is in scarce supply.
Even though last year's level marks a new high for drug shortages, the FDA also noted that the 2010 tally didn't include shortages of other medicinal products such as vaccines and products made from blood, tissue and other biological sources.
Jensen said last year's tally would be even higher if shortages for those products were also added in.