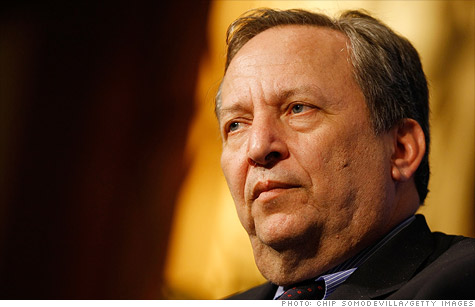 Larry Summers argued in two op-ed pieces that the federal government must do more to get the economy back on track.
NEW YORK (CNNMoney) -- Larry Summers, formerly one of the top economic advisors to President Obama, is advocating more government stimulus to jumpstart the struggling U.S. economy.
In opinion pieces Monday in the Washington Post and Financial Times, Summers, who was the first director of the National Economic Council under Obama, says that the United States is at risk of falling into a "Lost Decade" of prolonged weak economic growth and high unemployment unless more action is taken in the near term.
"We averted Depression in 2008/2009 by acting decisively. Now we can avert a lost decade by recognizing economic reality," he wrote.
Summers wrote that demand is likely to stay weak without the government taking steps to spur spending. He said the U.S. could have fallen into a double-dip recession already if not for the tax cuts and payroll tax holiday passed at the end of last year.
"The central irony of financial crisis is that while it is caused by too much confidence, borrowing and lending, and spending, it is resolved only by increases in confidence, borrowing and lending, and spending," he wrote in both columns.
Summers argued that the debate over how best to cut federal government's deficit and long-term debt outlook shouldn't take precedent over doing more to promote economic growth in the short-term.
"The greatest threat to the nation's creditworthiness is a sustained period of slow growth," he wrote.
Among the proposals he made is increasing the size of the payroll tax holiday from 2% of income to 3% of income, and expanding it so that employers also get a break from paying the tax that goes to support Social Security.
"At a near-term cost of a little more than $200 billion, these measures offer the prospect of significant improvement in economic performance over the next few years translating into significant increases in the tax base and reductions in necessary government outlays," he said in the Washington Post column.
He also advocated more spending on public works projects in the near-term, arguing in the Financial Times that the government should "take advantage of a moment when 10-year interest rates are below 3 percent and construction unemployment approaches 20 percent."