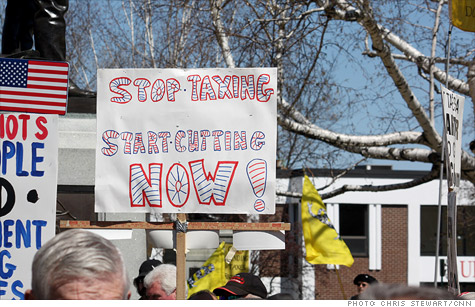 Some budget experts who warn about the danger of the long-term debt are cautioning against dramatic immediate cuts.
NEW YORK (CNNMoney) -- Some top deficit hawks from the left and right are flashing a warning sign: Making too many federal spending cuts now will hurt the economy.
These are the same folks, mind you, who have been preaching the perils of debt long before the cut-now-or-else Tea Party came to town.
And their message comes at a time when Republicans are pushing for trillions in federal spending cuts -- with as much in the near-term as possible -- in exchange for raising the country's debt ceiling.
The hawks' warning was backed up Tuesday by Federal Reserve Chairman Ben Bernanke.
"A sharp fiscal consolidation focused on the very near term could be self-defeating if it were to undercut the still-fragile recovery," he said in a speech to bankers.
Part of the GOP's reasoning for calling for big cuts: It will bolster business and investor confidence, and that in turn can help create jobs and spur economic growth.
Deficit hawks don't dispute that general trajectory, but the effect can be realized by agreeing to a long-term plan today that takes effect over time. And, they say, today's deficits aren't really what keeps them up at night.
"The short-term deficit isn't the problem," said former U.S. Comptroller David Walker, who notes that recent annual deficits are the result of temporary problems such as slow economic growth, high unemployment and the cost of various stimulus measures. (Long-term debt: The real problem)
Walker favors cutting some discretionary spending -- he recommends roughly $80 billion to $120 billion over the next two years.
But that's a far cry from cutting $380 billion, which is something the House Republican Study Committee said it wants to do in 2012.
Those cuts would amount to more than what was spent last year on the departments of agriculture, homeland security, veterans affairs and transportation combined. It's also is 57% of what was spent on defense.
And Walker parts company with the cut-now conservatives in another way. He thinks lawmakers should consider spending several hundred billion dollars in the short-run to make strategic investments in areas such as surface transportation, alternative energy and research and development. Even if it adds to the short-term deficit.
His only caveat: Such additional spending should be accompanied by tough budget controls, an agreement on mandatory spending cuts and a reduction in tax breaks "as a good faith gesture" toward a long-term debt reduction plan.
Economist Alice Rivlin, the founding director of the Congressional Budget Office, told CNN's Candy Crowley "if you just slash spending now or if you raise taxes right now -- that's a very bad thing to do as the economy is beginning to strengthen."
Rivlin would prefer if lawmakers offer additional aid to state and local governments to prevent more layoffs. But at the same time, she added, lawmakers should put a plan in place to cut long-term spending by making changes to entitlement programs and reforming the tax code.
Economist Ken Rogoff, meanwhile, has been warning that economic growth suffers when a country's gross debt tops 90% of GDP -- a marker the United States has already surpassed. His research on fiscal crises with fellow economist Carmen Reinhart is often cited by many lawmakers calling for debt reduction.
Rogoff certainly favors some fiscal adjustment, just not a rapid one.
"The important thing to do is structural reform. Make us grow faster. Improve our tax system, build infrastructure, education, view it as a crisis in that way," Rogoff said on "Charlie Rose" last week.
But, he added, "I certainly don't think slashing budgets at some last-minute deal is the way to go about business."