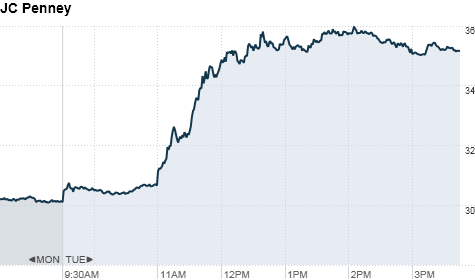 NEW YORK (CNNMoney) -- Shares of JC Penney (JCP, Fortune 500) jumped more than 17% on Tuesday, after the department store chain named Apple retail executive Ron Johnson as its next CEO.
Johnson will replace Mike Ullman, who is stepping down from the position November 1, but the former CEO will remain the retailer's chairman.
In his old position, Johnson helped launch physical retail stores strategies for Apple (AAPL, Fortune 500) in 2001, starting with two stores -- one in California and one in Virginia.
Apple now operates more than 300 stores in 12 countries, located in iconic shopping locales from Fifth Avenue in Manhattan to Ginza shopping district in Tokyo.
The tech giant's stores have been cited as a contributing factor to the company's success over the last 10 years, by giving consumers a chance to play and interact with Apple products long before they decide to buy. In its first quarter, Apple sold $3.2 billion in merchandise through its retail stores, up 90% from the year before.
"I've always dreamed of leading a major retail company as CEO," Johnson said in a prepared statement. "I am thrilled to have the opportunity to help JC Penney re-imagine what I believe to be the single greatest opportunity in American retailing today -- the department store."
In addition to becoming the new CEO, Johnson also will make a $50 million investment in JC Penney through warrants on 7.26 million shares of JC Penney stock. The warrants have a strike price of $29.92 per share -- the price of JC Penney shares the day before the announcement -- and cannot be sold for 6 years.
Before joining Apple, Johnson was a merchandising executive with Target (TGT, Fortune 500).