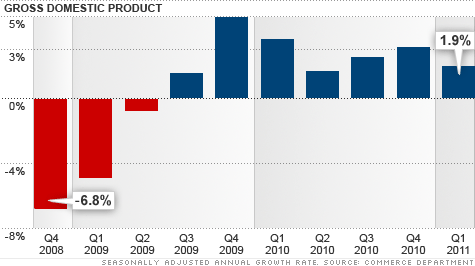 NEW YORK (CNNMoney) -- The U.S. economy was a little stronger than originally believed but still struggling in the first three months of the year, according to the government's final reading on the first quarter.
Gross domestic product, the broadest measure of the nation's economic activity, grew at an annual rate of 1.9% in the quarter, the Commerce Department reported Friday.
That's up from the previous estimate of 1.8%. Economists surveyed by Briefing.com had forecast no change from the prior reading.
But growth of 1.9% is still disappointingly weak, and there is widespread concern that the economy has slowed even more since the end of March. Hiring ground to a near halt in May and consumer spending and manufacturing slowed.
Economic growth of 3% or better is generally considered necessary to spur the level of hiring by employers needed to make a big dent in the unemployment rate. The U.S. economy typically grows at a 3.6% rate during an economic expansion.
On Wednesday, the Federal Reserve significantly cut its economic growth forecasts, and raised its unemployment and inflation estimates for the rest of this year as well as for 2012. Fed Chairman Ben Bernanke said he was frustrated by the fact that declines in unemployment will be slow and painful.
Another drag on growth in the first half of the year was a jump in the price of food and energy, which sapped consumers' ability to spend more on other goods.
Since the GDP reading is adjusted for inflation, higher prices means the economy has to grow faster just to keep pace with inflation.
Many economists have been cutting their forecasts for growth in the second quarter and the rest of 2011.
A CNNMoney survey earlier this month found that top economists are forecasting growth of just 2.3% in the second quarter, which is down from estimates of 3% only a month earlier.
Economists also see a greater risk of another recession, although they still believe that's a long-shot.
"Recent data suggests that the economy has slowed further since the first quarter, and some leading indicators are pointing to softness in the latter half of the year as well," said Jim Baird, chief investment strategist for Plante Moran Financial Advisors.
Bernanke said Wednesday he believed that some of the current weakness in the economy is due to temporary factors, such as the spike in oil prices following political turmoil in the Middle East and supply chain disruptions caused by the Japanese earthquake.
But he admitted he couldn't say how much of the weakness is due to those temporary factors and how much are more serious, longer-lasting issues such as consumers still struggling with too much debt and continued weakness in housing.
Economists said Friday's report leaves that key question still unanswered.
"We are not yet prepared to write-off a solid second half economic performance, particularly if the labor market regains momentum next quarter," wrote Carl Riccadonna, senior U.S. economist for Deutsche Bank.
"In the near term, it will be critical to determine if economic output in general and factory output in particular are stabilizing as the supply disruptions ease, and also if households and small businesses respond swiftly to lower gas prices."
John Silvia, chief economist with Wells Fargo Securities, also said he's still hopeful that the economy could rebound in the second half of the year.
But with growth so weak, he's worried that the economy would be vulnerable to any other shocks that might occur, such as a default of Greek sovereign debt, a new oil price spike due to more political turmoil in the Middle East or a U.S. government shutdown due to the debate over raising the debt ceiling.
"You can't get a shock to the system and walk away from that," he said.
A rebound is a best case scenario, Silvia added. But it's been a while since the economy enjoyed a best case scenario.