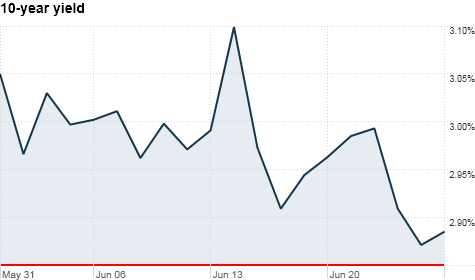 Click chart to track bond data.
NEW YORK (CNNMoney) -- Treasury prices fell Monday following a disappointing auction of 2-year notes and as investors await word from Greece.
Concerns overseas have put Treasury yields under pressure recently, as investors seek safety in government-backed debt amid all the uncertainty.
On Monday, the yield on the 10-year note ticked up to 2.91%. That's still its lowest level since November and a far cry from the nearly 4% level it was threatening to breach earlier this year.
The yield on the 30-year bond increased to 4.25%, and the 2-year note edged higher to 0.4% following a $35 billion auction that drew lackluster demand. The 2-year Treasury had recently hit a record low. The yield on the 5-year note rose to 1.44%. Bond prices and yields move in opposite directions.
Investors are still hanging on news from Europe. On Monday, Greece's parliament began a three-day debate on an austerity plan, mandated by the European Union and International Monetary Fund in exchange for a financial rescue package for the debt-stricken country.
On the domestic front, investors largely shrugged off readings on personal income and spending.
"I suspect that the morning's economics numbers have little real impact on the weakness in the Treasury market today," Kevin Giddis, managing director of fixed income at Morgan Keegan, said in a note. "Rather, it is geopolitical events (or, more precisely, non-events) that are chiefly responsible for today's activity."
According to Giddis, investors who sought protection against negative developments in Europe could simply be reversing their decisions in light of little bad news.
"With no news of any consequence coming on the Greek front since then, some of those investors are simply unwinding those positions," he said.
During the week, investors will be keeping close tabs on whether a host of painful austerity provisions are passed, which make Greece eligible for another bailout. The three-day vote ends Wednesday.
They'll also be turning their attention to the end of QE2, the central bank's $600 billion bond buying program aimed at spurring economic growth by flooding the system with liquidity.
The Federal Reserve's latest round of stimulus ends on June 30.