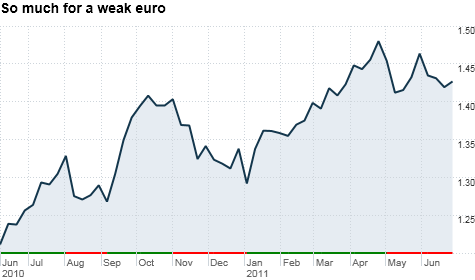 Despite scary headlines about Greece, the euro has rallied sharply against the dollar over the past year. Click chart for more on currencies.
NEW YORK (CNNMoney) -- Legendary financier George Soros is at it again, talking over the weekend about a potential euro collapse. But don't bust out your old Greek drachmas, Portuguese escudos, Italian lira or Spanish pesetas just yet.
Soros spoke at a conference in Vienna on Sunday. According to several reports, he said Europe was "on the verge of economic collapse" and that the likelihood of countries leaving the euro currency "is probably inevitable."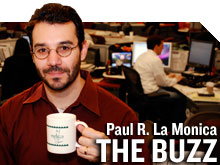 But some market experts think Soros is, at best, a bit premature with this gloomy prediction.
"To call for breaking up the euro is not alarmist. But he's connecting dots that might take years to come together. He may be very early," said Richard Ross, global technical strategist with Auerbach Grayson, a brokerage in New York.
Others think he is flat-out wrong.
"Soros has obviously gained a lot of credibility on calling currencies that he thought would decline, devalue or go away," said Rob Stein, senior portfolio manager with Astor Asset Management in Chicago. "But I don't think the euro is going away. I don't see how that would benefit Greece, Portugal or others."
Stein said that Greece leaving the euro would be like a teenager who runs away from home thinking that they can support themselves -- and comes sheepishly back once they realize that a roof over their head and three square meals a day is worth putting up with their parents.
"Greece would become a Third World country very quickly if it left the euro," Stein claimed.
That might be a stretch, but it's clear that Greece would certainly be no better off without support from the European Union. Ditto for Portugal, Ireland, Italy and Spain, the remaining PIIGS of Europe.
A mulligan on the euro would also not bode well for the leading economies of Europe either, particularly Germany and France.
"It is in nobody's best interest for Greece to leave the euro," argued Axel Merk, president of Merk Mutual Funds, a Palo Alto, Calif.-based money manager specializing in currency investments.
"There would be an implosion of the banking system which would hurt France. Germany wouldn't be able to export anything. It would be a complete disaster for everybody."
So why is Soros bad-mouthing the euro so much? Well, he has previously had short positions against the currency, although it's not clear if that's still the case now. But if he's been short the euro in the past year, that hasn't panned out so well -- despite all the Greece fears.
Ross points out that it's odd to be talking about a euro-pocalypse now since it's significantly stronger than a year ago. It's currently trading just under $1.43 against the dollar. In early June 2010, the euro dipped below $1.19 on .. you guessed it ... worries about Greece.
"I don't think people are more concerned about the euro now," Ross said. We were talking about dissolution of the euro last summer. It's the same problems as last year and the euro is 20% higher."
Of course, that may just mean the euro is due for a massive plunge back to mid-2010 levels. But Merk doesn't think that's going to happen. He said the reason that the euro is not at 2010 lows is because the market realizes that Europe is at least trying to fix the problems with Greece.
At the same time, Germany and France are helping to prop up the overall European economy. As bad as the headlines have been about the PIIGS, gross domestic product in the euro zone rose 2.5% on an annualized basis in the first quarter. To put that in perspective, GDP growth in the U.S. was just 1.9%.
"The process that's playing out in Greece is choppy and ugly," Merk said. "But the euro is relatively strong because they are addressing the issues and core countries are still thriving in this background."
So don't bury the euro just yet.
The opinions expressed in this commentary are solely those of Paul R. La Monica. Other than Time Warner, the parent of CNNMoney, and Abbott Laboratories, La Monica does not own positions in any individual stocks.