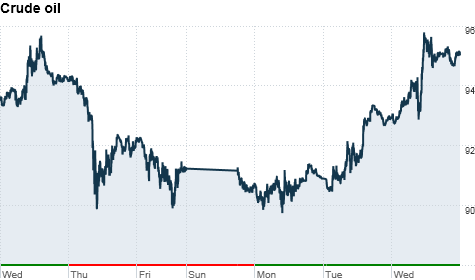 Crude is less than $1 dollar from where it was before Obama made the controversial decision to tap the strategic reserves. Click chart for more on oil prices.
NEW YORK (CNNMoney) -- Oil prices have surged in the last few days and are now less than a dollar from where they were when President Obama made the controversial decision to tap the nation's strategic reserve last Thursday.
On Thursday, West Texas Intermediate crude edged lower to $94.27 a barrel. But that's still nearly $5 higher than last week, when prices fell over 4% following the oil release announcement.
Oil's stubborn refusal to trend lower since the United States and other industrialized nations announced they would flood the oil market with 60 million barrels of fuel over the next 30 days is raising questions over what's driving the market -- fundamentals or pure speculation?
Falling dollar: The more conventional theory is that oil's rise is related to the fundamentals -- or, at least, the falling dollar.
The dollar has fallen relative to the euro in the last two days as Greece looks less likely to default on its debt.
Oil, which is priced in dollars, generally rises as investors flock to the commodity when the euro strengthens and dollar's value falls.
"Oil is not up all that much more than the dollar is down," said Greg Priddy, a global energy analyst at the Eurasia group, a political risk consultancy.
Priddy said that if the oil reserves weren't tapped, oil prices would simply be higher. Rather than bouncing back to around their pre-SPR price, he said oil would be $4 or $5 dollars higher than that.
Speculator irrationality at it again: There's another view as to why prices have rebounded so quickly. The sheer amount of investor money flooding into commodities markets is overshadowing any supply and demand numbers.
The amount of oil contracts that 60 million barrels generates is tiny compared to the amount of oil contracts that are traded on the world's financial markets every day, said Tim Evans, a futures analyst at Citigroup.
"The futures and options markets trades that in an hour," said Evans. "The only fundamentals that matter are the ones that the paper market decides that matter."
Evans noted that oil prices jumped 2% Wednesday, partly on the back of a report showing a 4.4 million barrel drop in U.S. commercial oil inventories.
"The market is saying that a 4.4 million barrel decline is more important than 60 million barrels being released," he said, also noting that Saudi Arabia and other Gulf states have agreed boost production by an additional 1 million barrels a day.
"I'm not saying anyone in particular is that bad at math, but that's the implied logic of the marketplace, and it's not rational."
Calling Obama's bluff: There's a third view as to why oil prices are right back to where they were before the release. There's a sinking feeling that at some point the governments that released the oil will probably buy it back.
Paul Horsnell, head of commodities research at Barclays Capital, noted that prices for oil contracts several months out in advance have risen even more than the near month contracts.
"The release is primarily a way of borrowing oil from the future into the present because the strategic reserves will ultimately be replaced," Horsnell wrote in a research note Wednesday. "Overall, we see the IEA action as being well motivated, but a shot in the dark."
The Obama administration argued all along that the release was meant to alleviate a supply disruption from Libya, not lower prices.
From a political standpoint, the administration is still in the clear: Gas prices -- what people really care about -- are continuing to fall from the nearly $4 a gallon mark hit in early May.
Gas prices usually lag oil price movements. They are still reacting to oil's general downward trend from over $110 a barrel hit a few months ago.
But going into a holiday weekend, it must be cold comfort for the administration to see oil prices right about back where they were before the SPR move.