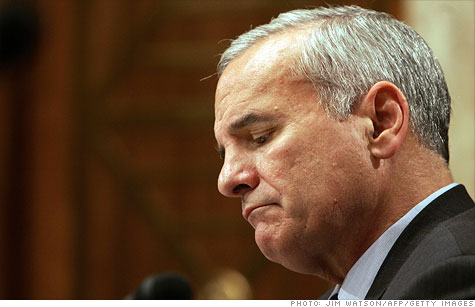 Minnesota is on the verge of a government shutdown after Gov. Mark Dayton and lawmakers butt heads over state budget.
NEW YORK (CNNMoney) -- Despite all the heated rhetoric and the gloomy economic forecasts, most states will start the new fiscal year Friday with budgets in place.
But it looks likely that at least three states -- Minnesota, Iowa and Massachusetts -- could miss the deadline.
Lawmakers and governors in several states are racing to finish up their budget work before the clock strikes midnight. Some 46 states have fiscal years that end June 30.
Massachusetts will enter fiscal 2012 with no budget since legislators aren't set to vote on a spending plan until Friday. However, the state can continue to operate under a 10-day stopgap budget.
In Iowa, lawmakers passed a budget on Thursday with just hours to spare, but Gov. Terry Branstad will not sign it before midnight since he wants to read it first, a spokesman said. However, he did approve a bill that will allow the state to operate for 30 days.
But the picture is not as bright in Minnesota, where partisan disagreements could force the shutdown of the state government for the second time in six years. Democratic Governor Mark Dayton and Republican legislative leaders are battling over how to close the state's $3.6 billion budget deficit. At issue is whether to address the shortfall by increasing taxes or cutting spending.
The governor, who ran on a platform of taxing the rich, wants to hike the levy on the wealthiest 1.9% of Minnesotans, as well as cut spending. But the lawmakers, who wrested control of the Capitol from Democrats in November, say they will not support a tax hike.
Residents are already feeling the impact. The Minnesota Department of Transportation had shut down more than 80 highway rest stops by early Thursday afternoon. State parks and the zoo are also set to be closed.

Things could have been much worse for states this year. State government leaders faced an especially difficult budget season. Though tax collections were on the rise, they still were far below their pre-recession levels. And state officials had to contend with the end of federal stimulus funds, which helped them prop up their budgets for the past two years.
States faced shortfalls totaling $103 billion for fiscal 2012, according to the Center on Budget and Policy Priorities. To close them, states had to adopt some deep and difficult budget cuts.
Still, most states were able to agree on a spending plan. And it's not unusual that a few were still debating. Last year, New York, Pennsylvania and California did not have their budgets in place in time.
"In any given year, one can expect a handful of states facing the potential of a late budget situation," said Arturo Perez, director of fiscal affairs at the National Conference of State Legislatures.
At least 38 states can rest easy because their governors have signed the state budget, according to the National Conference of State Legislatures.
And in several other states, the budgets were sitting on the governor's desk, awaiting signature. Most were expected to sign the spending plans on Thursday.