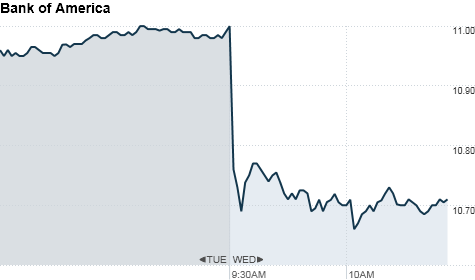 Click the chart to view Bank of America's stock.
NEW YORK (CNNMoney) -- Bank of America shares tumbled nearly 3% Wednesday after a small group of bond investors rejected the deal struck last week with larger investors who were also burned by fraudulent mortgage securities.
The group, which calls itself Walnut Place, said it has "serious concerns about the secret, non-adversarial, and conflicted way in which the proposed settlement was negotiated and about the fairness of the terms of the proposed settlement," according to a petition filed against Bank of New York Mellon (BK, Fortune 500), the trustee on the bonds.
Walnut Place, which owns securities issued by three of Bank of America-owned Countrywide trusts, said BofA's $8.5 billion settlement deal only serves the interests of the 22 larger investors, which include BlackRock (BLK, Fortune 500), the Federal Reserve Bank of New York, MetLife (MET, Fortune 500), PIMCO and the asset management unit of Goldman Sachs (GS, Fortune 500).
"As trustee, we acted and continue to act in the best interest of all investors in the trusts," said Kevin Heine, spokesman at BNY Mellon, who declined to comment directly on the court filing. "We believe the proposed settlement is reasonable and have asked the court to review and approve it after considering all the issues."
In the petition, which was filed in the New York County Supreme Court Tuesday, Walnut Place said it intends to ask the court to allow bond holders to exclude their trusts from the proposed settlement.
Bank of America (BAC, Fortune 500), which acquired Countrywide in 2008, and Kathy Patrick, the lawyer representing the 22 larger investors, were not immediately available for comment.