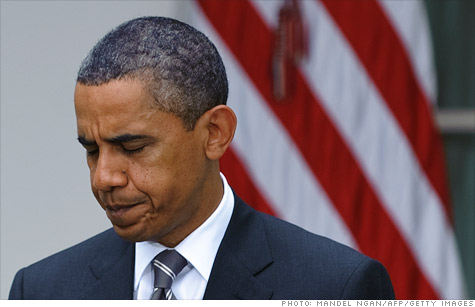 President Obama said after the dismal jobs report that Americans expect Washington "to act on every single good idea that's out there" to try to help the economy.
NEW YORK (CNNMoney) -- The nation's anemic job market was thrust back into the spotlight Friday after a surprisingly weak report on U.S. payrolls.
But there is little political appetite to enact bold stimulus measures.
The government has already spent billions in the past two years to try to lift the economy out of recession.
And the focus in Washington today is on cutting spending and raising revenue as the debate over raising the nation's $14.3 trillion debt ceiling comes to a head.
In response to the jobs report on Friday, President Obama called for Congress to act on several pieces of existing legislation.
Obama said rebuilding the nation's infrastructure could provide work for unemployed construction workers. He also called on lawmakers to encourage entrepreneurs by streamline the patent approval process.
The president said Congress should pass several free-trade agreements and extend the current payroll tax break, which he said put $1,000 in the pockets of American consumers.
"The American people expect us to act on every single good idea that's out there," Obama said at a press conference at the White House.
But the measures Obama outlined pale in comparison to the administration's past efforts to stimulate the economy.
In December, Obama negotiated an $860 billion tax cut deal with Republicans to extend unemployment benefits and provide a payroll tax holiday for consumers, among other things.
That came on top of the 2009 Recovery Act, which pumped some $787 billion into the economy during the recession.
Obama's critics pounced on Friday's jobs report as proof that these policies have failed to create jobs and put the nation deeper in debt.
"Washington's failed stimulus has produced more spending, more debt and more taxes, but not more paychecks," said David Camp, the Republican chairman of the House Ways and Means Committee.
But the administration maintains that the job market would be in much worse shape if stimulus had not been enacted.
The Recovery Act helped lift employment levels from where they would otherwise be by between 2.4 and 3.6 million jobs, according to a recent report from Obama's Council of Economic Advisers.
The political reality is that the chances of Congress enacting more stimulus now is exceedingly remote.
"I think Obama has backed himself into a corner," he said Dean Baker, co-director at the Center for Economic and Policy Research. "It will be difficult for him to push stimulus given his debt reduction rhetoric."
The steps Obama outlined Friday should help the economy, but Baker said any large-scale government support for the job market is more or less off the table.
"That would be the reasonable thing to do, but doesn't seem to be in the cards," he said.