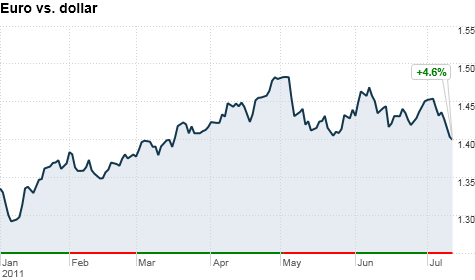 Click chart to track the dollar.
NEW YORK (CNNMoney) -- The dollar hit a four-month high against the euro Tuesday as investors sought out safe-haven assets to shield their wealth from the threat of a broadening European debt crisis.
The euro weakened, falling to $1.38 against the greenback, the lowest level since mid-March, when the continental currency was in the middle of run that saw its value spike from $1.29 in January to $1.49 by May.
"The European crisis is the dominant factor in currency markets at the moment," said Brian Dolan, chief currency strategist at Forex.com. "But it's also a bit of a spillover from the weak jobs report from last week."
In recent days, investors have shifted their focus from Greece to Italy, as the latter country's fiscal situation has been called into question.
Combined with fears of a broad global slowdown, eurozone fears have pushed investors out of riskier investments like stocks and into safe-haven assets like the dollar and Treasury bonds.
Dolan said the dollar could strengthen further if results from European bank stress tests are worse than expected. Those are due out Friday and 15 out of 91 are expected to fail.
"In addition to bailout of Greece, Portugal and Ireland, there is another bill going to be coming due, and that's going to be recapitalization," Dolan said.
The stress tests come as Europe's finance ministers try to come up with a plan to prevent the debt crisis from spreading to so-called periphery countries.
After a nine-hour meeting on Monday, the group published a statement pledging to enact new measures "shortly," but failed to calm investors' nerves.