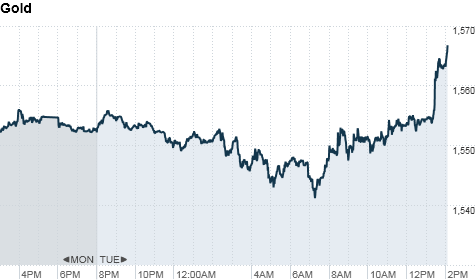 Click the chart for more commodities data.
NEW YORK (CNNMoney) -- Gold jumped to a record high Tuesday after the minutes from the Federal Reserve's June policy meeting indicated the central bank might be open to more monetary stimulus.
Gold futures for August delivery climbed $13.10, or 0.9%, to a record high of $1,562.30 an ounce. In after-market electronic trading, gold rose as high as $1,574.30 an ounce.
The late-afternoon surge came after the minutes from the Federal Reserve's June meeting said "a few members" of the bank's Federal Open Market Committee said the bank "might have to consider providing additional monetary policy stimulus, especially if economic growth remained too slow to meaningfully reduce the unemployment rate in the medium run."
It's one of the first times the Fed has made any direct reference to a third round of quantitative easing. The most recent round of quantitative easing, nicknamed QE2, ended in June.
The Fed did not name which members of the FOMC were open to more fiscal stimulus.
The dollar fell against the euro and Japanese yen on the news. Commodities, which are traded in dollars, also rose, with oil gaining more than 2%. Silver prices also advanced 2%.
"Even minor chatter about a third round of stimulus makes investors sell the dollar," said Brian Dolan, chief currency strategist with Forex.com.
Tuesday's record high is not adjusted for inflation. Gold's inflation-adjusted record is roughly $2,233, according to Minneapolis Fed's inflation calculator.