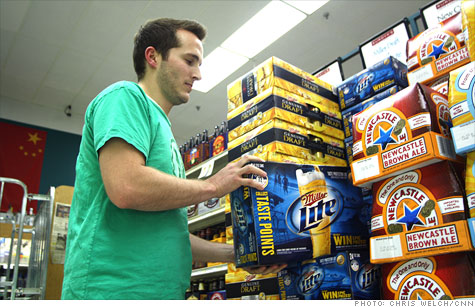 Minneapolis resident Andrew Oliver stocks up on Miller Lite, his wife's favorite beer, at Surdyk's Liquor.
MINNEAPOLIS (CNN) -- Miller Lite beer fans better stock up while they can.
The MillerCoors brewing company will soon be forced to pull 39 brands of beers from every restaurant, bar and liquor store in the state of Minnesota.
It's all because the company wasn't able to renew their brand label registration far enough in advance before the state's government shut down.
"What that means is they're not able to either distribute or sell their product in this state," said Doug Neville, spokesperson for the Minnesota Department of Public Safety.

Neville said the bare-bones staff of the state Alcohol and Gambling Enforcement department have reached out to MillerCoors for a removal plan, so he said it will likely be a day or two before the company begins pulling the product.
When Andrew Oliver of Minneapolis heard the news, he headed over to Surdyk's Liquor to stock up on Miller Lite, his wife's favorite beer.
"We just had a kid, so she's looking forward to Miller Lite."
Oliver's wife certainly isn't the only loyal Miller drinker.
"There's a big following for Miller products," according to Molly Auron, assistant beer buyer for Surdyk's Liquor. About 30-40% of the store's beer cooler is filled with MillerCoors brands, Auron said.
"The weekend's coming, people need their beer, so I think people are preparing and stocking up," said Auron.
MillerCoors, a joint venture of SABMiller and Molson Coors (TAP), actually put in for the label registration renewal back in mid June, but that application wasn't accepted because they "overpaid their fees," according to Neville.
A second attempt at renewal could not be processed before the license expired on June 30, and the government shut down the next day, Neville said.
"When they resubmitted their application it wasn't received in time for us to process it before the government shutdown occurred."
But Julian Green, a spokesman for MillerCoors, insists that the original application made it in before the deadline, and therefore, the license should have been renewed. Furthermore, Green said, the state never returned the original check for the fee, and now has two checks from the company.
"We will be exploring all options available to us, including legal" Green said.
Meanwhile, the beer company is trying to work something out with the state and hoping to resolve the issue quickly and keep beer on the shelves, which Green said is also in the state's best interest.
"With a 38% share of the marketplace, we believe that the state revenue or the state taxes that we would provide certainly would be sorely needed in the state of Minnesota," Green said.
Beer is just the latest in a long line of casualties -- including 22,000 state workers -- to fall victim to the state's government shutdown.