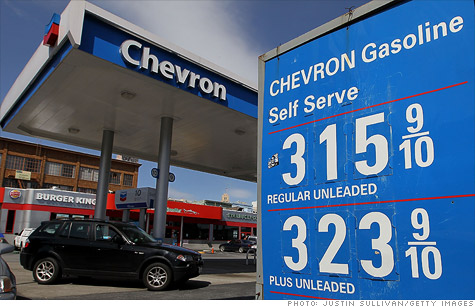 Gas prices fell sharply in June.
NEW YORK (CNNMoney) -- Falling prices at the pump pushed inflation lower in June, but consumers are still paying significantly more than they were last summer.
The Consumer Price Index, the government's key inflation measure, fell 0.2% in the month, led by a 6.8% drop in gasoline prices over the same period. It was the first time in a year the monthly CPI reading decreased.
Economists surveyed by Briefing.com were expecting the rate to fall by 0.1% in June.
"The decline in overall inflation is a positive for consumer spending," said Joseph LaVorgna, chief U.S. economist for Deutsche Bank. "In general, lower gasoline prices are hugely stimulative to households - every one cent decline in gasoline prices frees up $1 billion in aggregate cash flow."
But consumers were still paying 3.6% more for goods and services than in June 2010. Gas prices are a major factor there as well. Even with two months of declining prices at the pump, gas costs consumers 36% more than it did a year ago.
Economists are worried that lower gas prices are masking signs of growing price pressures elsewhere in the economy. Prices for such staples as food, clothing and cars continue to climb.
"All in all, there is increasing evidence that price pressures are building across a broad range of goods and services," said Peter Newland, economist with Barclays Capital.
So-called core CPI, which strips out volatile food and energy prices, rose 1.6% over the last 12 months, and 0.3% in June. Economists had expected only a 0.2% increase in the monthly rate.
The Federal Reserve's comfort zone is for a core inflation rate of between 1% and 2% a year. While the Fed has raised its forecasts for overall inflation through 2012, it still expects core inflation to remain in check, making interest rate hikes less likely this year.