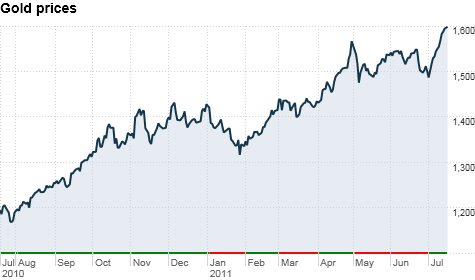 Click on chart for more gold prices
NEW YORK (CNNMoney) -- Gold prices broke a new record Monday, topping $1,600 an ounce, driven by concerns over mounting debt in the United States and Europe.
Gold futures for August delivery settled at a new high of $1,602.40 per ounce. Earlier in the session, gold touched a fresh intraday high of $1,607.90 per ounce.
The buying was also helping lift shares of gold ETFs, with Market Vectors ETF Trust (GDX), SPDR Gold Trust (GLD) and Pro Shares Ultra Gold (UGL) moving about 1% higher.
The yellow metal has been on a roll since July 12, when it got an extra boost from the minutes of the Federal Reserve's June policy meeting. They indicated that the central bank could be open to more monetary stimulus.
Further stimulus could undermine the U.S. dollar, triggering a flight to gold, the age-old stalwart in troubled times, when investors are afraid to put their money elsewhere.
"I think people are coming to realize that the economy is weakening again and the government might see a need to try to stimulate the economy further," said Joe Foster, portfolio manager for the Van Eck Global International Investors Gold Fund (INIVX).
Gold has also been lifted by concerns over European debt, especially from the fiscally hamstrung nations of Ireland and Greece.
"Greece is sort of on the verge of default and they're still trying to figure out how to engineer a recovery for Greece without inflicting a default on the country [and] the markets are sensing that's almost impossible," said Foster. "Until the situation is resolved in these peripheral countries, it's going to drive gold."
Jono Remington-Hobbs, precious metals analyst for FastMarkets Ltd. in London, said that gold investors will be closely watching the European Union's economic summit scheduled for Tuesday.
"European leaders have been kicking the can down the road for so long they don't realize that they've walked into a cul de sac," he said.
Remington-Hobbs also said that gold prices could be heavily influenced this week by what Federal Reserve Chairman Ben Bernanke says when he speaks Thursday about financial regulation.
Silver was taking its cues from gold, with prices breaking the $40-an-ounce mark for the first time since May 4. Silver for September delivery rose more than 3% Monday to settle at $40.34 per ounce. But that's still short of its April 25 record of $49.81, noted Remington-Hobbs.
Gold is also still far from its true peak, when adjusted for inflation. Gold hit its real record on Jan. 21, 1980, when it rose to $825.50 an ounce. Adjusted for inflation from 1980 dollars to 2011, that translates to an all-time record of $2,261.33 an ounce.