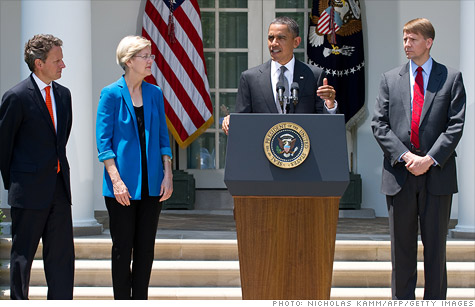 President Obama nominated Richard Cordray to run the consumer bureau on Monday.
WASHINGTON (CNNMoney) -- President Obama nominated Richard Cordray on Monday to head the new Consumer Financial Protection Bureau, an independent agency set to launch on Thursday.
"I look forward to working with Richard Cordray as this bureau stands up on behalf of consumers all across the country," Obama said Monday in an address from the Rose Garden.
Cordray, 52, works as the chief enforcement officer for the Consumer Financial Protection Bureau (CFPB) in Washington. But Cordray made a name for himself among consumer groups and Ohio Democrats in politics.
As Ohio's attorney general, Cordray filed lawsuits against the big banks -- accusing them of hiding losses from employee pension funds and improperly foreclosing on homeowners.
"He is a former Democratic state attorney general who was known for aggressively going after banks," said Jaret Seiberg, a policy analyst for MF Global Inc.'s Washington Research Group. "He is not a compromise candidate."
Indeed, many congressional watchers don't expect that Cordray will get the chance to lead the consumer bureau.
Senate Republicans have reiterated threats to block confirmation of any director to run the bureau without "significant changes" to the bureau's structure, which would weaken the bureau's powers. Lawmakers, so far, have also managed to avoid going into congressional recess -- preventing the president from making a temporary appointment to the post.
"Until the governing structure of the CFPB is reformed, so that the agency and its leadership have accountability for the way they write and enforce rules and spend federal dollars, I don't think it's appropriate to confirm anyone as director," said Sen. Bob Corker, a Tennessee Republican, in a statement.
Cordray won his position as Ohio's attorney general in a special election in 2008. In his brief tenure there, he filed a high-profile lawsuit on behalf of Ohio pension funds against Bank of America (BOA). He accused the bank of hiding losses of Merrill Lynch prior to buying the investment firm, and for awarding big bonuses to bank executives.
He also sued Ally Financial. The lawsuit sought to prevent the bank from foreclosing on borrowers in Ohio, because of their use of robo-signers accused of cutting corners in verifying foreclosure documents.
Last fall -- just days after Cordray lost his bid to keep his job as Ohio's attorney general -- Elizabeth Warren recruited him to help her set up and run the consumer bureau.
"Rich will be a strong leader for this agency," Warren said in a statement on the White House blog. "He has a proven track record of fighting for families during his time as head of the CFPB enforcement division, as Attorney General of Ohio, and throughout his career."
Consumer groups and progressive groups had been lobbying the White House to appoint Warren as the new bureau's director. But after the White House announced Cordray's nomination Sunday, most groups quickly released statements supporting the President's pick and praising Cordray's record as attorney general.
"Richard Cordray certainly has the requisite knowledge of the financial services marketplace, and demonstrated consumer protection track record to be qualified to be the CFPB's first director," said Travis Plunkett, lobbyist for the Consumer Federation of America.
Behind the Bureau: The CFPB was the brainchild of Warren, a Harvard University law professor. The bureau is intended to make basic financial practices -- such as taking out a mortgage or making loans -- more clear and transparent, while ferreting out unfair lending practices.
Warren had been a leading candidate to run the bureau, and has spent the past year working as a White House and Treasury adviser setting up the bureau. She is now planning to return to Harvard University this fall, sources familiar with her decision have told CNN.
On Thursday, the CFPB will launch as an independent agency, and can start examining the books of the nation's largest banks to make sure they're abiding by existing laws that protect consumers. The bureau can also make sure that the banks are following credit card laws that crack down on fees, and spell out how long it takes to pay off credit card debt through minimum payments.
However, until Cordray steps up as the official director, the bureau lacks new powers critical to preventing the next financial crisis --- such as regulating the non-banking firms that originated hundreds of millions of dollars in subprime mortgages, during the height of the boom to families who couldn't afford them.
Cordray is an attorney who served in the Ohio state house. He teaches at Ohio State University as an adjunct professor. He also reports being an undefeated five-time champion on the "Jeopardy" television program, according political campaign materials.
-- CNN's Kevin Bohn and Austin Alonzo contributed to this report.