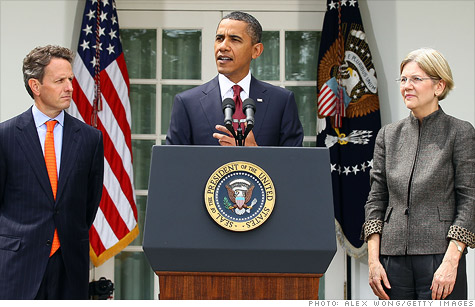 If Obama doesn't appoint a director to run the consumer bureau by July 21, Tim Geithner and his designee Elizabeth Warner will run it.
WASHINGTON (CNNMoney) -- There's a myth in Washington that -- come its July 21 launch date -- the consumer financial protection bureau created by the Wall Street reform law has to sit on its hands without a Senate-confirmed director.
But Treasury and those working to set up the bureau disagree. They're preparing the bureau to wield some pretty big powers even without a director, many of which have gotten short shrift at other agencies.
With all the focus centered on who the president will appoint to run the bureau, and Republicans doing what they can to block even a temporary appointment during a congressional recess, it's easy to overlook what the consumer bureau can start doing on July 21.
"It would be better for the country if we had a confirmed director in place sooner rather than later," said University of Michigan professor Michael Barr, who helped shape the Dodd-Frank Wall Street reforms that created the bureau when he worked as an assistant Treasury Secretary. "That being said, the consumer bureau has broad authorities that kick into place in July."
To be sure, a director-less bureau would lack new powers critical to preventing the next financial crisis --- such as regulating the non-banking firms that originated hundreds of millions of dollars in subprime mortgages during the height of the boom to families who couldn't afford them.
If no director is appointed and confirmed, Treasury Secretary Tim Geithner would step up to run the consumer bureau. That means he can continue to delegate management to his designee, Elizabeth Warren, the Harvard University professor who came up with the idea for the bureau and has been working to set it up over the past year.
"We really are an agency. We're not an implementation team anymore, We're there," Warren said in a talk with personal finance reporters last week.
That won't make Republicans happy -- they've lambasted Warren, and done whatever they can to stop President Obama for even thinking about naming her to run the bureau.
Here are some of the powers the bureau is preparing to wield come July 21:
* Send bank examiners in to inspect the books of the largest banks with more than $10 billion in assets, which account for 65% of all mortgages.
* Ensure that the biggest banks are abiding by credit card laws that require more disclosure and crack down on fees. They can also craft new rules aimed at stopping banks that try to get around the credit card laws.
* Ensure that consumers denied bank loans based on a bad credit scores, get to see a copy of their credit scores for free.
* Finish crafting rules that ban banks and other lenders from making mortgages without verifying income, an effort end the practice of liar loans.
* Create new rules under existing consumer laws. For example, the bureau would have the power to crack down on the kinds of fees banks charge customers who overdraw their checking accounts, although that's not top of the list right now.
The Consumer Financial Protection Bureau is basing its understanding of what it can do July 21 on a Treasury Inspector General report sent to Republicans in January. That report says the bureau gets to exercize powers inherited from other agencies.
So if the Fed or one of the other seven different existing regulators can do it now, the consumer bureau can do it as of July 21 -- even without a director.
"The existing laws -- including the truth-in-lending act, the real estate settlement procedures act, the fair debt collection act -- all provide ample basis for the consumer bureau to make significant progress in its work," Barr said.
But, if the power is a new power, the consumer bureau can't do it until it gets an officially Senate-confirmed director.
This means the bureau can't go regulating pay-day lenders or mortgage brokers that aren't banks, a source of many bad loans during the housing crisis -- although fewer are making loans today.
Another thing the consumer bureau can't do is declare financial products deceptive or abusive and ban them, according to that report.
It also can't enforce the simpler mortgage disclosure form it's working on now, according to the inspector general's report.
However, the American Bankers Association opposes Treasury's interpretation of the consumer bureau's powers. They say it's too generous and that the bureau can't make any new rules or enforce them without a Senate-confirmed director.
"They can train, practice and hold meetings, but they can't promulgate a rule or enage in any enforcement action unless they have a director," said Wayne Abernathy, an executive vice president at the American Bankers Association. "The bureau was intentionally designed to be a czardom, so all the powers flow through that czar."
Abernathy predicts that any rule the agency tries to enforce would get challenged in court, on the grounds that the bureau lacks authority.
But Congressional Republicans aren't waiting for such a fight. Assuming the bureau can wield some consumer powers on July 21, they're pursuing legislation to delay those until a director is in place.
Rep. Shelley Moore Capito of West Virginia is pushing a bill that House Financial Services Committee passed last month that would delay the transfer of powers from other agencies to the consumer bureau if there's no confirmed director in place.
She called it a "contingency plan."
"If we have a creation of a bureau that has no director, I think that really speaks to a lot of ambiguity, vagueness, ineffectiveness," Capito said. "It could lead to some practices being able to go forward, because we're sort of in a la-la land, without a head of the bureau."