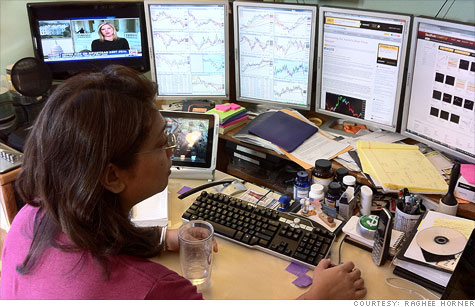 Raghee Horner at her at-home trading station. Horner began trading currencies in 1999, and now it's her primary market for trading.
NEW YORK (CNNMoney) -- Lydia Idem-Finkley said she was a stock trader for most of her adult life -- until she gave birth to her first daughter.
Becoming a mom was one of the main reasons why Finkley says she no longer trades stocks. Instead, she took advantage of her sleep deprivation and moved into the 24 hour, seven-day-a-week world of currency trading.
"We would stay up all night looking at currency charts because neither one of us could sleep," she said.
Finkley is one of the roughly half a million investors in the U.S. who have switched from trading stocks to trading currencies in the past decade.
Currency day trading was essentially a non-existent market less than 10 years ago. But retail investors now make up 8% of the daily volume in the $4 trillion forex market, according to the Aite Group, a financial consulting firm.
It's a unique demographic too. Currency traders are increasingly younger - with two-thirds of them under the age of 50. A higher percentage of females trade currencies than stocks as well.
"In the late 1990s, you didn't need to trade forex because you got the volume and volatility you were looking for in stocks," said Raghee Horner, a South Florida-based trader who has traded currencies for the past 10 years. "Now if you're really looking to trade volatility, you have to look at currencies."
Horner said she typically trades anything against the U.S. dollar, but said she's been avoiding trading the dollar versus the euro due to the ongoing debt ceiling debate here in the U.S. and the ongoing sovereign debt problems in Europe.
"The volatility in the dollar-euro is terrific, but there's a lot of confusion surrounding what politicians are trying to do so a lot of traders are being eaten alive," Horner said.
Traders' reasons for switching over to currencies vary. Finkley said she found tracking a single country's economy easier than trading stocks, where an investor has to monitor economic conditions but also the details of what goes on in a major corporation. Others said they like the off-market hours that forex trading allows as well.
"I know the reason sounds trivial, but having access to a dynamic, liquid market at any time is particularly intriguing to traders," said Glenn Stevens, CEO of Gain Capital, the parent company of Forex.com. "You don't have to compartmentalize your day around trading hours."
Despite the surge of interest, currency trading is not for the faint of heart. Only 27% of retail investor currency trading accounts are profitable in the second quarter of 2011, according to the Commodities Futures Trading Commission.
How to trade currencies without losing your shirt
Stevens said this is due in part to the fact Americans are still new to currencies. Currency trading is far more common outside the U.S., particularly in Asia.
For those interested in attempting currency trading, many U.S. brokers offer trial accounts where potential investors can use a broker's system and trade fake money.
Joseph Ortiz, who began trading currencies six months ago, said he "blew up" three trading accounts before he was able to get a handle on currency trading.
Like any other market, currency trading carries substantial risks. But currency trading can be even riskier than stocks because it's common for currency traders to use large amounts of leverage, essentially borrowing money from brokers to make investments, in a trade.
Regulators capped leveraged bets in the forex market at 50:1 last August, but it still remains well above the 4:1 or 5:1 ratios that stock traders have when buying on margin.
Ortiz said it's pretty common for rookie traders to think the only strategy is leverage. But it's not really safe for a novice to do so. Like with any investing strategy, it's best to stay within your means.
"Funny thing is, once I started using real cash, my penchant for taking on oversized risk was greatly reduced," Ortiz said.
With that in mind, here are some tips from Ortiz and other retail investors for anyone looking to try out trading currencies:
Focus on a few currency pairs (like the dollar and euro for example) that you're comfortable monitoring consistently.
Before jumping into currency trading, use a broker's practice software for three to six months at least.
Find a mentor or experienced trader to follow. Traders on investing social networks such as StockTwits will often publish their currency trades throughout the day.
Choose a trading strategy to follow and stick with it. Experienced retail investors said they often would get hurt when they decided to switch strategies.
While leverage is often easy to come by, it's not often the best choice for new currency traders. Even experienced retail currency traders said they will rarely use leverage higher than 20:1.