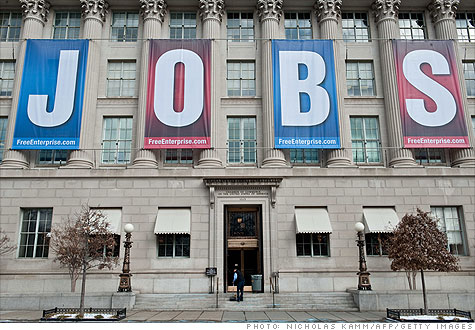 The U.S. Chamber of Commerce has amped up its call for Washington to do something to make sure the United States can pay its debts.
WASHINGTON (CNNMoney) -- As the clock ticks down to the Aug. 2 deadline to raise the debt ceiling, Big Business is beginning to panic.
In its latest call for a deal, the U.S. Chamber of Commerce executive vice president for government affairs Bruce Josten wrote in a blog post today that "default is not an option."
"Failure to raise the debt ceiling would have calamitous results," Josten wrote. "It would halt government operations, make our debt and deficit situation worse, debase the value of the dollar and threaten its status as the world's reserve currency, and hamper U.S. growth and job creation."
Josten went on to warn of other consequences, like rising interest rates for consumers seeking car loans and mortgages and a bad credit rating that would make it pricey for the U.S. government to borrow in the future.
"The result from political inaction could be devastating," Josten wrote.
Josten also said that lawmakers need to crack down on the burgeoning U.S. public debt, a point that Republicans often make.
If Congress doesn't reach a deal to raise the debt ceiling before the Aug. 2 deadline the U.S. will not be able to pay its debt obligations.
President Obama has a plan that would close loopholes and make the wealthiest Americans and some corporations pay higher taxes, but that won't pass the House. House Republicans have their own plan -- the Cut, Cap and Balance bill -- but it won't pass the Senate.
On Tuesday, the bipartisan Gang of Six revealed its own debt reduction plan, raising optimism. Obama lent his support and the market rallied.
Although members of the Senate expressed an unusual amount of enthusiasm for the plan it doesn't mean it's a done deal. Sen. Dick Durbin, a member of the Gang of Six, said the plan is "not ready for prime time."