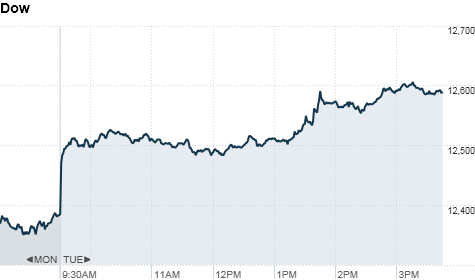 Click the chart for more stock market data.
NEW YORK (CNNMoney) -- The Dow industrials staged their strongest one-day rally of the year Tuesday after President Obama indicated that lawmakers are closer to reaching an agreement on raising the debt ceiling.
The Dow Jones industrial average (INDU) gained 1.6%, or 202 points -- its largest rise of 2011. Of its 30 components, 27 were in the black.
"Obama came on television and it seemed like there was significant progress on the debt ceiling," said Phil Streible, senior market strategist with Lind-Waldock. "Suddenly there was a lot of optimism."
The S&P 500 (SPX) added 21 points, or 1.6%; and the Nasdaq (COMP) gained 61 points, or 2.2%.
The nation could face default if lawmakers fail to raise the debt ceiling by the Aug. 2 deadline. The so-called "Gang of Six" proposal considered by senators earlier in the day plans to cut $3.7 trillion over the next ten years.
"The good news is that today a group of senators, the 'Gang of Six,' Democrats and Republicans... put forward a proposal that is broadly consistent with the approach that I've urged," the President said in an afternoon press conference.
Gold -- which had topped $1,600 an ounce earlier -- immediately plunged following Obama's comments. Gold futures for August delivery fell $15.40 to $1,587 an ounce in global trading.
Stocks were already up before Obama spoke, as investors welcomed a strong housing report and some solid corporate earnings.
Before the opening bell, the Commerce Department reported both housing starts and building permits figures that blew past Wall Street expectations in June.
Shares of homebuilder Lennar (LEN) climbed 6.9% and competitor DR Horton (DHI, Fortune 500)rose 5.4%.
Companies: Apple's third-quarter profit of $7.3 billion was more than double that of a year earlier. After being halted before the earnings announcement, Apple (AAPL, Fortune 500) shares leapt 6.5% in after-hours trading.
Yahoo! (YHOO, Fortune 500), however, saw its shares fall 3.7% in after-hours trading, after the search engine released second-quarter earnings that met Wall Street estimates, but also reported weakness in display and search revenue.
Earlier in the trading session, News Corp. (NWSA, Fortune 500) remained in the spotlight, as CEO Rupert Murdoch testified before the British Parliament about a phone-hacking scandal that has shaken the press, police and political establishments.
After plummeting to a six-month low Monday, News Corp. shares rebounded 5.5% Tuesday.
Meanwhile, investors seemed to shrug off disappointing earnings reports from some of America's largest banks.
Bank of America (BAC, Fortune 500) shares fell 1.5% after the bank reported a net loss of $8.8 billion, or 90 cents per diluted share. The loss was expected after BofA agreed to pay an $8.5 billion settlement to investors burned by fraudulent mortgage securities.
Goldman Sachs (GS, Fortune 500) posted second-quarter earnings of $1.1 billion, or $1.85 a share, missing analysts' forecasts. The investment firm reported net revenue of $7.28 billion. Goldman Sachs shares fell 0.9% after the report.
Harley Davidson (HOG, Fortune 500) was the biggest gainer in the S&P 500, climbing nearly 9%. The motorcycle maker beat Wall Street forecasts on both earnings and revenue, and raised its shipment forecasts for the year overall.
IBM led the Dow's gains, after the chipmaker reported an 8% year-over-year rise in quarterly income to $3.7 billion late Monday. Excluding one-time charges, earnings per share were $3.09. The positive news bumped IBM (IBM, Fortune 500) shares up 5.7%.
Citing strong demand, Coca-Cola (KO, Fortune 500) -- another Dow component -- reported earnings per share of $1.20 on revenue of $12.7 billion, beating analyst expectations. Shares of the soft-drink maker were up 3.3%.
Johnson & Johnson (JNJ, Fortune 500) fell 0.6%, after the health products company said its second-quarter income dropped 20% to $2.8 billion -- mostly due to drug recalls. But profit and revenue still beat Wall Street forecasts.
Currencies and commodities: The dollar weakened against the euro and British pound, but rose versus the Japanese yen.
Oil for August delivery gained $1.57 to $97.50 a barrel.
Bonds: The price on the benchmark 10-year U.S. Treasury dropped, pushing the yield up to 2.88% from 2.91% late Monday.
World markets: European stocks closed higher. Britain's FTSE 100 edged higher 0.7%, the DAX in Germany advanced 1.2% and France's CAC 40 added 1.2%.
Asian markets ended mixed. The Shanghai Composite was off 0.7% and Japan's Nikkei lost 0.9%, while the Hang Seng in Hong Kong ticked up 0.5%.