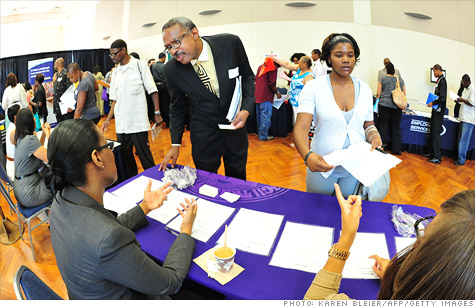 Job seekers speak to university representatives at a job fair in Washington, D.C. this week.
NEW YORK (CNNMoney) -- In yet another sign that the job market is still stuck in a rut, more Americans filed for first-time unemployment benefits last week than the week before.
There were 418,000 initial unemployment claims filed in the week ended July 16, the Labor Department said Thursday.
That marks an increase of 10,000 initial claims since the previous week, and more than the 411,000 claims economists surveyed by Briefing.com had expected.
A level below 400,000 is typically associated with payroll growth and a lower unemployment rate -- but claims have persisted above that level for 16 straight weeks.
Minnesota's government shutdown has weighed on the overall number for at least two weeks. Roughly 1,750 of the new claims filed last week were due to the statewide shutdown, the Labor Department said. In the prior week, Minnesota had reported about 9,681 claims as a result of the shutdown.
But the shutdown ended Wednesday, when Governor Mark Dayton signed a $35.7 billion budget, and state employees are slowly returning to work.
New York also saw a huge influx of filings, due to the end of the school year.
More than 20,000 people in the state filed fresh unemployment claims in the week ending July 9 -- the most recent data available. Those employees included education contractors like bus drivers and cafeteria workers, but not necessarily teachers.
Layoffs in the auto industry were another major factor, as both Michigan and Ohio reported thousands of new claims.
"Auto production hasn't ramped up as quickly as we expected," said John Canally, economist with LPL Financial. "Claims are still stuck in no-man's land."
For the nation overall, the four-week moving average of initial claims --calculated to smooth out volatility -- fell. The average was 421,250 or 2,750 fewer claims than the week before.
Continuing claims -- which include people filing for the second week of benefits or more -- fell to 3,698,000 in the week ended July 9 -- in line with economists' forecasts.
The current unemployment rate is 9.2%.