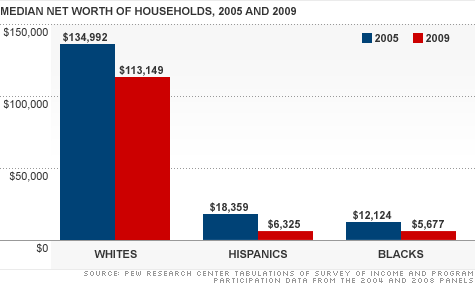 NEW YORK (CNNMoney) -- The wealth gap in the United States has grown wider in the wake of the Great Recession, with black and Hispanic American households faring much worse than white households, according to a study published Tuesday.
The study, from 2009 data compiled by the Pew Research Center, found the median wealth of white households was 20 times that of black households and 18 times that of Hispanic households.
Household wealth is defined as the sum of a family's assets minus the sum of its debts. The study defines assets as homes, cars, savings and financial investments, while debts include mortgages, auto loans and credit card debt, among other things.
Based on data from the Census Bureau, the study highlights how blacks and Hispanics have been disproportionately affected by the collapse of the housing market, the financial crisis and the recession that marked the period from 2005 to 2009.
It found that the wealth gap between white households and their black or Hispanic counterparts was the widest it has been since the government began publishing such data by ethnicity in 1984.
The wealth of white households in America has always been greater than black and Hispanic households. But the recession widened the gap significantly, with the spreads more than double what they were during the two decades leading up to the recession, the study said.
Rakesh Kochhar, one of the report's co-authors, said it's possible that the gaps may have narrowed somewhat since 2009.
Kochhar said home prices have stabilized in the last year, which should lift the net worth of black and Hispanic homeowners, since both groups draw a large share of their net worth from home equity.
At the same time, he added, the wealth of white households has probably benefited from the rise in stock prices over the last few years, since a much higher share of whites own stocks.
But a recovery would not be enough to narrow the current divide significantly.
According to the study, the inflation-adjusted median wealth among Hispanic households fell 66% from 2005 to 2009. Black households suffered a 53% drop in net worth over the same period. By contrast, whites saw a decline of 16% in household wealth.
In 2009, the typical black household had just $5,677 in wealth. Hispanic families had about $6,325 in wealth. The average white household had a net worth of $113,149.
The study also showed that a third of black and Hispanic households had zero wealth, meaning that their debts were larger than the value of all their assets.
Overall, the study attributed much of the disparity to the decline in home values, which hit black and Hispanic households hardest.
In addition, the downturn in the housing market was most severe in states with large populations of Hispanics and Asians, including California, Arizona, Nevada, Florida and Michigan, according to the study.