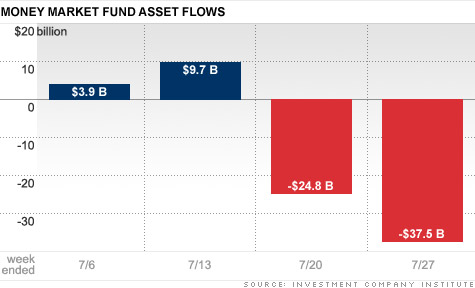 During the last two weeks, more than $62 billion has left money market funds, with about 60% yanked over the past week, as the debt ceiling deadline nears.
NEW YORK (CNNMoney) -- As U.S. debt ceiling negotiations get down to the wire, fund managers are shifting out of money market funds in case a debt default creates a pressing demand for cash.
More than $62 billion has been shifted out of money market funds over the past two weeks, according to Investment Company Institute. About 60% of that, or $37.5 billion, was yanked during the week ended July 27.
The outflow doesn't spell disaster, considering money market fund assets still sit above $2.6 trillion, but it does mark the biggest weekly outflow of the year and it highlights the underlying fear about the debt ceiling being raised by Aug. 2.
Since money market funds are heavily exposed to short-term Treasuries, with an average maturity of 60 days, some investors are worried that the Treasury will not be able to make its upcoming payments on debt maturing within the next couple of months, said Roger Merritt, a credit market analyst at Fitch Ratings.
As investors have been fleeing the Treasury market, the yield on the 1-month Treasury bill has spiked to 0.17%, up from virtually 0% at the start of the month, said Anthony Valeri, fixed income strategist at LPL Financial.
Fund managers are also pulling out to make sure their funds have enough liquidity to pay investors who may rush to cash out of their investments if Congress allows the looming deadline to pass without a resolution.
According to ICI chief economist Brian Reid, there are other factors at play as well. "Lingering concerns about the European debt crisis...has also fueled investor concern," he wrote in blog post. Reid also noted that regulatory changes to non-interest bearing and business checking accounts could also account for some of the outflow.
Meanwhile, longer-term Treasury rates are slowly edging lower, as investors continue to buy government debt that matures years down the line. ICI data shows investors have added more than $14 billion to long-term bond funds during the first few weeks of July.
"It's pretty inconceivable that the debt ceiling debate won't get sorted out at some point soon," said Cameron Brandt director of research at EPFR, a global fund tracker. "Investors are confident that Congress will get something done for the long haul, but there's just some uncertainty for the moment."
Plus, big buyers of long-term U.S. debt, such as China, will continue to buy Treasuries and keep interest rates steady in an effort to protect their current holdings.
As long as longer-term interest rates remain steady, interest rates on home loans, car loans and credit cards should follow suit, said Peter Rizzo, senior director of fund services at Standard and Poor's.
But if investors begin to question the value of long-term U.S. debt, rates could being to move higher, and in turn, raise the cost of borrowing across the broader credit market.