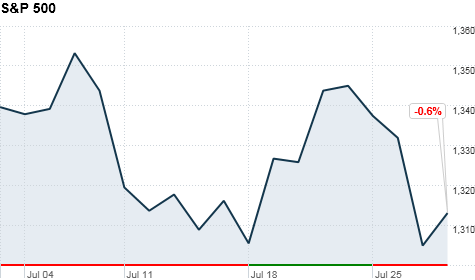 The clock is ticking. Stocks have been falling as investors wait for Washington to strike a deal over the debt ceiling and the nation's deficit.
NEW YORK (CNNMoney) -- In the dubious scenario that lawmakers fail raise the debt ceiling and ultimately lead the country to default on its payments for the first time in history, U.S. stocks could tumble 30% over the following six months to a year, according to a Credit Suisse report.
While stocks have been sliding and investors remain on edge, Credit Suisse analysts think a default scenario has less than a 1% chance of actually playing out.
But if there is a default, the U.S. economy could contract a total of 5% during the next six months to a year as well, said Luca Paolini, a research analyst at the Swiss investment bank and an author of the research report.
"If the U.S. does default, there are massive ramifications," Credit Suisse analysts said in the report. "The fallout would be far worse than after Lehman's default. Back then, the U.S. government could at least spend and do the 'right thing," while now the only backstop would be the Fed."
No default, but no deal: Even though Washington will likely avoid a default by cutting government spending and selling U.S. assets even if it fails to raise the debt ceiling ahead of the Aug. 2 deadline, it won't be enough to ease the markets, the Credit Suisse analysts wrote.
A stalemate that lingers for even three months could push stocks down as much as 15%, according to the bank's analysts. And each month that lawmakers remain in deadlock over the debt ceiling would shave up to 1% off U.S. GDP.
"With no agreement and with Social Security due to be paid on Aug. 3, our economists estimate that $134 billion of government spending cuts will be required in August alone," Credit Suisse analysts said in the report.
And the lack of an agreement within three to six months of next week's deadline would add a "very significant" risk of another recession in the United States.
50% chance of a credit downgrade: Hopes for Washington to raise the debt ceiling ahead of Tuesday are high, but that doesn't mean the nation's AAA credit rating will remain.
Credit Suisse said current negotiations suggest that lawmakers will buckle down and raise the debt ceiling prior to Aug. 2, but delay key decisions until after the 2012 elections.
The bank thinks that leaves a 50% chance that Standard and Poor's and Moody's will cut the country's stellar rating.
But the analysts aren't too worried about the consequences of that result.
"We doubt it would have much effect," they said, noting that Japan's debt holds a AA-rating and yields 1.1% and most U.S. Treasury funds don't have credit-rating limitations.