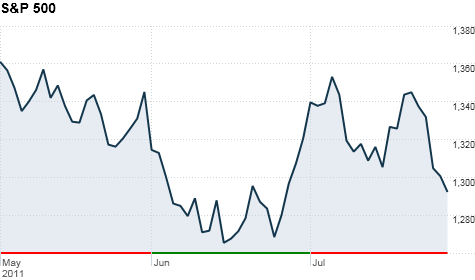 Click the chart for more market data
NEW YORK (CNNMoney) -- Stocks are expected to start the week with a relief rally after President Obama announced late Sunday that a bipartisan deal had been reached on the debt ceiling.
Dow Jones industrial average (INDU), Nasdaq Composite (COMP) and S&P 500 (SPX) Futures were all up more than 1.4% late Sunday.
"There will be some positive euphoria," said Mark Luschini, chief investment strategist at Janney Montgomery Scott. "A resolution allows people to step back and take a breather."
Obama announced a two-part plan Sunday evening that would cut $1 trillion and set up bipartisan committee to make additional steps toward debt reduction. The deal still requires congressional approval.
But the rally may be short lived since the coming week also brings the ever-important monthly jobs report.
The economic recovery has slowed considerably and "job creation is the answer to a lot of things," said Luschini.
The U.S. economy is expected to have created 78,000 jobs in July, according to a consensus of analysts polled by Briefing.com.
In June, a paltry 18,000 jobs were created, a fraction of the 120,000 jobs that a CNNMoney survey of 27 economists had forecast. It also marked the weakest month since September so any further weakness could rattle investors' nerves and send stocks on a wild ride.
Investors will also have another busy week for corporate earnings, with 107 members of the S&P reporting their results. And earnings have so far been very strong.
"There's a lot of pent up demand for stocks from the great earnings we've had and at the end of the day, its earnings that drives stocks," said Keith Springer, president of Springer Financial Advisors.
U.S. stocks had their worst weekly performance in more than a year last week, as investors' concerns about the nation's debt ceiling escalated.
On the Docket
Monday -- Investors will get the Institute for Supply Management's manufacturing report for August at 10 a.m. ET. This closely-watched report is forecast to come in at a reading of 54, according to Briefing.com. That would be down from June's reading of 55.3.
The Commerce Department will release its June construction spending figures at 10 a.m. ET as well.
In earnings, insurance companies Humana (HUM, Fortune 500) and Allstate (ALL, Fortune 500) are scheduled to report before the opening bell.
Tuesday -- Before the bell, Dow component and pharmaceutical giant Pfizer (PFE, Fortune 500) will report its quarterly results. Analysts surveyed by Thomson Reuters expect the drugmaker to post a profit of 59 cents per share, down 4.7% from a year ago.
Other names reporting Tuesday include CBS Corp (CBS, Fortune 500)., agricultural products company Archer Daniels Midland (ADM, Fortune 500) and NYSE Euronext (NYX, Fortune 500), the parent company of the New York Stock Exchange.
The Commerce Department will release personal income and spending figures at 8:30 a.m. ET. Economists are looking for a 0.1% rise in incomes for June and a 0.1% rise in spending.
Later in the day, the major automakers' will issue their July sales numbers starting at around 11 a.m. ET
Wednesday -- Investors will get the ADP private employment report at 8:15 a.m. ET. Economists expect the private sector hired 95,000 fresh workers in July, down from the 157,000 the sector hired in the prior month.
In other economic data, the Commerce Department will release June factory orders data and the Institute for Supply Management's will put out its service sector index at 10 a.m. ET. Economists are looking for factory orders to fall 1% and the ISM's service sector index to fall to a reading of 53.1.
Time Warner (TWX, Fortune 500), the media giant and parent company to CNNMoney, is expected to report a profit of 56 cents per share when it reports before the bell on Wednesday. Other notable companies reporting results include Clorox (CLX, Fortune 500), MasterCard (MA, Fortune 500) and Prudential (PRU, Fortune 500).
Thursday -- The Labor Department's closely-watched weekly initial jobless claims data comes out at 8:30 a.m. ET, with economists expecting claims to rise to a reading of 405,000 claims from last week's 398,000 claims.
Food company and Dow member Kraft (KFT, Fortune 500) will report its earnings after the closing bell. Analysts are looking for Kraft to post a profit of 58 cents a share.
Southwest Airlines (LUV, Fortune 500), CVS Caremark (CVS, Fortune 500), First Solar (FSLR) and insurance company AIG (AIG, Fortune 500) are also scheduled to report their financial results.
Friday -- The week culminates with the Labor Department's July jobs report, which comes out at 8:30 a.m. ET.
Outside of the government's non-farm payrolls report, investors will also have earnings from Dow member Procter & Gamble (PG, Fortune 500) as well as the Washington Post Co. (WPO, Fortune 500) and Viacom (VIA).