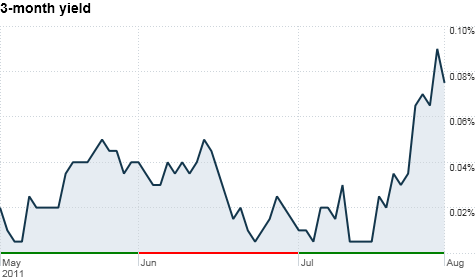 Click chart for more bonds and rates data.
NEW YORK (CNNMoney) -- The debt ceiling debacle has just cost U.S. taxpayers more than $18 million.
That's the amount of additional interest the government had to pay investors Monday to sell Treasury bills that finance its operations.
To be precise, the extra cost is $18,458,654 more in interest payments than the government would have needed to pay investors just two weeks ago, when they were willing to accept far lower rates before the debt ceiling became a crisis.
"That's real money," said IHS Chief Economist Nariman Behravesh. "Taxpayers need to wake up to the fact that these kind of shenanigans in the end cost."
As Republicans and Democrats battled over the debt ceiling, interest rates on short-term government paper have jumped.
The U.S. Treasury auctioned nearly $27 billion of one-month bills at a rate of 0.07%, up from the rock-bottom yield of 0.01% that existed on one-month bills as recently as July 18, before the debt ceiling became a crisis.
On Monday, Treasury auctioned $27 billion of three-month bills at an interest rate of 0.115% up from 0.02% two weeks ago. Treasury also auctioned $24 billion of six-month bills at a rate of 0.15%, an increase from 0.06% two weeks ago.
"The uncertainty has driven up yields," said John Canavan, credit market analyst with Stone & McCarthy Research Associates. "You increase uncertainty in the markets and the markets will demand compensation for that."
As the prospect of a debt ceiling agreement brightened, Treasury bill yields eased a bit as investors became more confident that the full faith and credit of the U.S. government remains rock solid.
But, the higher cost of financing government operations from just two weeks ago will now add to the nation's deficit, further contributing to the problem that caused political gridlock in the capitol.
"It's already exacerbating the situation," said New York University Professor of Economics Lawrence White, who testified before Congress last week about the debt crisis.
While investors demanded higher interest rates at Monday and Tuesday's auctions, there was still plenty of demand. Treasury received more than 4.5 bids for every dollar's worth of T-bills it auctioned, only slightly below recent auction activity.
T-bill rates have been creeping higher as investors have reduced holdings of short-term government paper to avoid the risk Washington may fail to make payments on its debts in the next few weeks.
"Many investors are just not willing to take the risk, even if they believe the U.S. won't default," said Anthony Crescenzi, senior vice president and market strategist with bond investment firm PIMCO, which operates the $235 billion Pimco Total Return Fund (PTTAX).
Danger remains that the credit rating agencies may downgrade the U.S. If the country were to lose its triple-A credit rating, it likely would need to pay higher interest rates to attract investors to its bonds.
Last week, however, long-term Treasury yields declined as investors -- still confident Washington will pay its debts after the current crisis has passed -- rushed into 10-year Treasury notes and 30-Treasury bonds.
Correction: An earlier version of this article incorrectly stated the cost to taxpayers was $1.7 billion. In fact, it was $17 million.