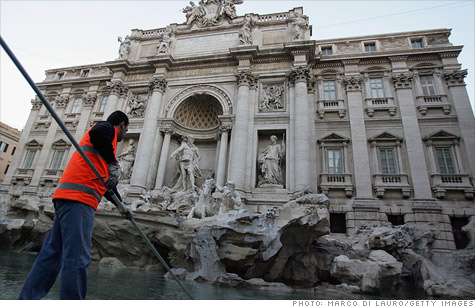 A worker fishes coins out of Rome's famous Trevi Fountain. Is this the Italian government's plan to increase revenue?
NEW YORK (CNNMoney) -- If you think the markets have been ugly in the United States for the past eight days, you obviously haven't looked at Italy.
Sure, the Dow (INDU) has fallen 6.7% during its losing skid. It was down another 1% in mid-afternoon trading Wednesday. But Italian stocks have suffered a double-digit percentage plunge.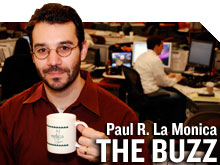 The iShares MSCI Italy Index Fund (EWI), which owns companies trading on the Milan Stock Exchange, has plummeted more than 13% since July 21.
And in a sign of just how nervous investors are about Italy's financial health, long-term bond yields there have skyrocketed lately.
The 10-year yield in Italy is up to about 6.1%. (I mentioned Italian bonds in a column about bonds just three weeks ago and the yield was 5.6% at the time.)
While that's still much lower than yields in Ireland, Portugal and Greece, it's a lot higher than the puny 2.58% yield for a 10-year Treasury. And Italy's long-term bond yields are now only slightly below Spain's.
Italy, like the U.S. and many other developed nations, needs to get its debt burden under control. Its debt, as a percentage of gross domestic product, is second only to Greece in the European Union.
"It's like a mudslide. It's slow but inexorable," said George Feiger, CEO of Contango Capital Advisors in San Francisco. "The Europeans are in a race to the bottom. The Italian budget may be in better shape than Spain's but it's still hard to be optimistic about Spain."
The crisis in Italy is so worrisome now that Prime Minister Silvio Berlusconi even addressed Parliament about it on Wednesday in an attempt to calm market fears.
Berlusconi said that Italian banks are adequately capitalized and reiterated that the government has to do more to boost growth. (Apparently he was channeling Treasury Secretary Tim Geithner.)
Some experts believe that Italy, which already passed a so-called austerity budget in mid-July, may need to do even more.
"Italy has a high debt load but the reason they have been able to stay under the radar until now is that the economy had been growing," said Ashraf Laidi, chief executive officer of Intermarket Strategy Ltd, a London-based research firm. "The problem though is that growth is slowing everywhere and the government's deficit reduction plan may not be going far enough."
The panic taking place in Italian stocks -- especially bank stocks like Unicredit and Intesa -- is particularly worrisome since many large U.S. and European banks have a decent chunk of exposure to both Italian sovereign debt and Italian banks.
In that regard, Italy's problems are somewhat reminiscent (although probably not as severe) of the liquidity and credit crisis that hit the U.S. in the fall of 2008.
And the higher that Italian interest rates go, the less attractive Italy's bonds and other investments will become. So what can be done, if anything, to save Italy?
Italy's finance minister reportedly met with EU officials in Luxembourg Wednesday to discuss options to assist the country in the event that bond rates surge further. It's not clear though if Italy will actually need a bailout like Greece, Portugal and Ireland did.
And the head of Italy's treasury was said to be in Asia trying to urge investors there to buy Italian debt.
But Fabio Fois, European economist with Barclays Capital in London, said that economic growth in Italy is likely to be extremely sluggish going forward even if bond rates pull back.
That's why he thinks the government has to enact more policy changes -- particularly when it comes to labor laws -- to make the country more competitive.
"We know GDP in Italy is going to be quite weak," Fois said. "The only way the Italian government can decisively change market sentiment is to approve structural reform in a credible way. But that's not easy to implement."
You need look no further than Washington for proof of that. Perhaps the famous saying about Italy's capital should be changed to "When in Rome, do as the Americans do."
The opinions expressed in this commentary are solely those of Paul R. La Monica. Other than Time Warner, the parent of CNNMoney, and Abbott Laboratories, La Monica does not own positions in any individual stocks.