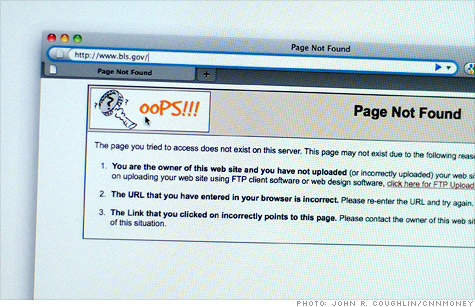 NEW YORK (CNNMoney) -- The Bureau of Labor Statistics website crashed Friday morning, and a highly anticipated monthly report on payrolls and the unemployment rate was not available online for about an hour.
The site was down for at least half an hour after the payroll report was released at 8:30 a.m. ET. The site came back on but failed to update and only old reports could be accessed.
The BLS website updated the payroll report, which proved a surprising bright spot, at about 9:30 a.m.
"The reason the website was down is that the service was overwhelmed by the number of inquires," said BLS spokeswoman Stacey Standish. "We're working to make sure this doesn't happen in the future. There was a lot of interest in the report."
The report was the subject of intense investor focus, partly because of the ongoing concern about the job market, and also because it followed a bloody day on Wall Street.
On Thursday, the Dow Jones Industrial Average plunged 512 points, the ninth-steepest drop in its history, fueled by fears about the global economy.