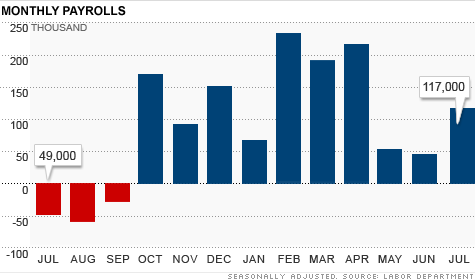 NEW YORK (CNNMoney) -- The job market strengthened in July, a welcome piece of good news that sharply contrasted other recent data pointing toward an economic slowdown.
Employers added 117,000 jobs last month, easily topping the 75,000 gain economists surveyed by CNNMoney had predicted. And the unemployment rate improved slightly to 9.1%.
After a shockingly weak jobs number from June and a spate of other negative economic reports, many economists had been bracing for the worst from Friday's report, and took the news as a positive surprise.
"What a relief!" said Mark Vitner, senior economist at Wells Fargo Securities. "The modest rise allays some fears. The data still show the economy losing momentum, however."
While July's growth alleviated some worries, it was not enough to make a significant improvement in the struggling labor market. Economists estimate the economy needs to add about 150,000 jobs a month just to keep pace with population growth.
So far, the economy has recovered only 1.9 million of the 8.7 million jobs lost since the recession began. Two years after it officially ended, 13.9 million Americans remain unemployed, 44% of which have been out of work for six months or longer. About 1.1 million people have become so discouraged they've stopped looking for work altogether and are no longer counted as unemployed.
The drop in the number of people in the labor force is what produced the slight improvement in unemployment, not the pick-up in hiring. In fact the complement to the unemployment rate -- percentage of the population with a job -- fell to 58.1%, a 28-year low for that reading.
But the report contained plenty of positive news.

Weak job reports for both May and June were both revised higher, adding a combined 56,000 jobs for the year, bringing the total to 930,000 jobs added so far in 2011.
Businesses were busy hiring in July, adding 154,000 workers in the month, topping forecasts of 100,000 new jobs. But those gains were tempered by a loss of 37,000 government jobs, mostly from state and local governments, where budget shortfalls led to layoffs in July, especially in Minnesota where the government briefly shut down.
The gains were also widespread across various industries, as nearly six in 10 added jobs during the month. Among the gainers were the long-battered construction industry, business and professional services, retailers, leisure and hospitality and manufacturing.
Average hourly wages ticked up 0.4% in the month to $23.13, more than doubling the expected increase. The index of aggregate weekly payrolls also rose 0.6% after dropping the previous month. Both those things could help pump money into the struggling economy.
"We're treading water," said Tig Gilliam, president of the North American unit of job placement firm Adecco "Companies are very happy being very thin. They don't want to scale back up until it's absolutely essential. And we don't have a consumer spending pace that suggests that is going to significantly change."
In just the last week, data on consumer spending, manufacturing, job cuts and gross domestic product, have all raised concerns that the slowing economy could fall back into recession.

The White House said that more needs to be done to bring down the unemployment rate. Austan Goolsbee, chairman of the Council of Economic Advisors, called for bipartisan support of a number of measures, including extension of the payroll tax holiday and unemployment benefits, a public works bill and pending free trade agreements.

Republicans were unified in their criticism of the jobs data and the Obama administration's economic policies, as most of the GOP presidential candidates issued statements attacking the president's record.