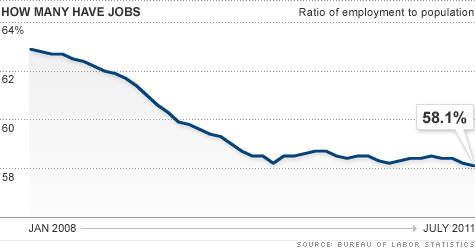 NEW YORK (CNNMoney) -- The U.S. labor force is shrinking, as more Americans are giving up hope.
Last month, only 58.1% of Americans age 16 and over were employed, a significant drop from before the recession and the lowest since 1983.
That's especially worrisome to economists, who say a steady increase in those dropping out of the work force and not being counted in the unemployment rate is disguising just how bad the labor market really is.
"People are dropping out of labor force for all types of reasons," said Robert Brusca of FAO Economics. "And it's not a good trend. A good part of the wealth of a nation has to do with the proportion of population that works."
Some economists say that the employment-population ratio, or "e-pop," is a more accurate snapshot of the labor market than the unemployment rate, which fell to 9.1% last month from 10.1% in October 2009.
"When we have a time when the labor force is not growing normally, e-pop provides the cleanest assessment of what is going on in the labor market," said Heidi Shierholz, a labor economist with the Economic Policy Institute, a liberal think tank. "What you see is from '07 to '09 -- it fell off a cliff, and it hasn't recovered since then."
While demographic factors like baby boomers reaching retirement age and younger people staying in school longer are playing a role, Shierholz said, the economy is the biggest driver.
Fewer Americans are working today than in recent decades because of the growing number of discouraged job seekers.
The Labor Department estimates that there are 6.6 million people who want a job but have left the labor force for one reason or another. That's the highest reading in 17 years, and an increase of 1.9 million since the start of the recession.
"That's a tremendous loss of human capital," said John Silvia, chief economist for Well Fargo Securities. "That means that the unemployment rate, even at 9.1%, is not as good as it seems."
Many of the unemployed are getting various forms of government support, like disability benefits and unemployment insurance. But some of those programs are masking the extent of the problem.
For example, collecting unemployment gives the jobless a reason to keep applying, which can boost the number of workers looking for jobs. But once they've exhausted their benefits, they have little incentive to keep looking and suddenly fall off the rolls.
Disability benefits have a similar effect. In a good economy, workers with health problems might remain in the labor force and continue to look for work. But with few jobs available, the disability program gives them a reason to drop out of the workforce.
The result is a shrinking pool of workers that isn't keeping pace with population growth.
"If anything, we're likely to continue to see this ratio of those in the labor force go down further," said Gad Levanon, associate director of macroeconomic research at The Conference Board.