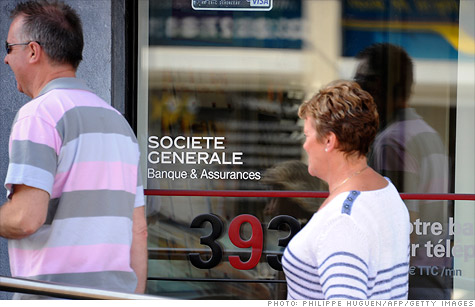 Societe Generale shares dropped 20% on worries, so far unfounded, that France faces a rating downgrade.
NEW YORK (CNNMoney) -- Eurozone debt fears hit France with a vengeance Wednesday, as the nation's bank stocks came under fire and rumors swirled about a possible downgrade to the country's credit rating.
But that action failed to materialize. Instead, major rating agencies made efforts to sooth fears and issue public affirmations of their AAA rating for France.
France has a relatively high level of sovereign debt, and its borrowing costs have risen in recent weeks as contagion moved from peripheral eurozone countries such as Greece and Portugal to the eurozone core.
"France's rating is fragile at AAA," said Marc Chandler, global head of currency strategy at Brown Brothers Harriman. "And after the U.S. was downgraded, people started to look around for who gets it next."
Another set of rumors -- this time centered around a French bank in trouble -- led to an assault on the country's banking sector.
Societe Generale led the decline, falling nearly 20% on the Paris exchange.
A company spokeswoman said the bank "categorically denies all market rumors" in an interview with Bloomberg.
Meanwhile, Credit Agricole lost almost 12% and BNP Paribas shed 10%.
While much of the street chatter centered on eurozone banks, there was little to substantiate the market reaction.
"Things are not normal, there is a very unusual and heightened fear factor," Chandler said. "France is only the story du jour. And it doesn't really explain why the U.S. stock market (the Dow industrials) is off 420 points."
On Sunday, the European Central Bank signaled that it would begin buying Italian and Spanish government bonds.
Both countries -- two of the largest economies in Europe -- have been under pressure to speed up budget reforms as investors demand higher interest rates for loans.
In a separate announcement Sunday, finance ministers from the G-7 -- a group of significant world economies -- pledged support for troubled countries.