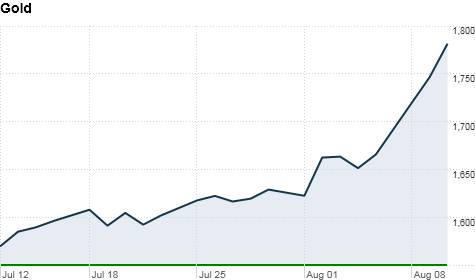 Click the chart to track gold and other commodities on CNNMoney.
NEW YORK (CNNMoney) -- Ding! Gold broke yet another record Wednesday, reaching as high as $1,801 an ounce, as investors keep fleeing from the volatile stock and currency markets.
In midday trading, the precious metal surged $58 to $1,801 per ounce, before retreating slightly to settle at a record high of $1,788.30 on the Chicago Mercantile Exchange. (Track gold and other commodities.)
It marked the first time ever gold has exceeded $1,800 in intra-day trading.
In less than a month, it has surged more than $200 amid worries about the debt ceiling, the S&P downgrade, Europe's sovereign debt woes and weakness in the U.S. economy.
Those fears were amplified this week amid wild swings from stocks and a gloomier economic outlook from the Federal Reserve yesterday.
Typically viewed as a safe haven, gold often performs well in times of instability.
"We're seeing traders are starting to get tired from the whipsaws in the currency markets and want to have a tangible asset that is gold," said Adam Klopfenstein, senior market strategist with MF Global. "Everyone wants a ticket to the show."
Adding to the gold rush were bullish forecasts from Chinese gold and copper miner Zijin Mining Group (ZIJMF), which said it expects the precious metal to reach $1,900 an ounce by year-end.
According to Klopfenstein, that's an entirely realistic prediction -- especially if Europe's debt problems aren't solved and the U.S. economy continues to stall.
"We could see $2,000 gold by the end of the year," he said. "Heck, we could have it next month."
Adjusted for inflation, gold's true peak was reached in 1980. Back then, the price reached $825.50 an ounce, which translates into roughly $2,261 in 2011 dollars.